This article will focus on children's pants and a jacket, that is, on a summer set for a girl from dark blue gauze. This fabric was inherited to me. She is one hundred percent cotton, not a reaper! For gauze, this is very important. This type of fabric (gauze reaper) is very unpleasant to wear for a child (and I also don't really like this fabric, I try to iron it harder with iron so that the folds "parted") So, my fabric is nice to wear, but the color not very girlish. I admit honestly, I thought for a long time what to build from it ?!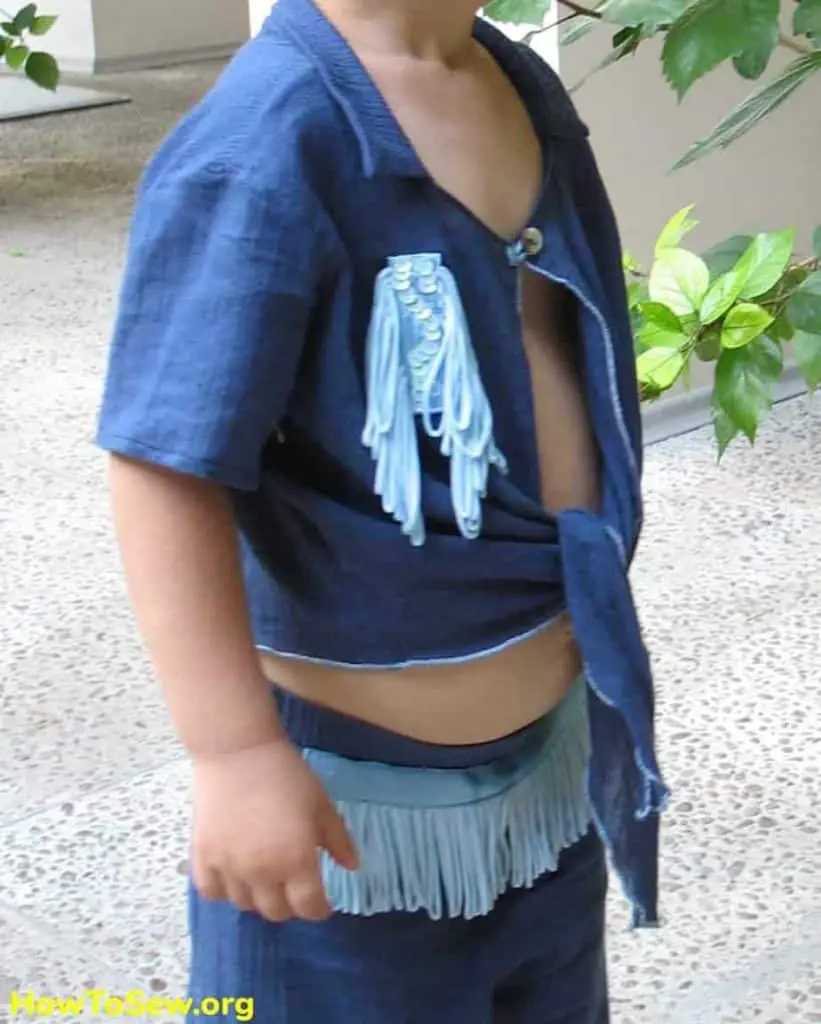 Let's start with the pants. This model of summer pants is sewn all according to the same simple pattern as those about which I wrote in this article. There I also gave links to patterns of simple children's pants and step-by-step pictures of how to sew them. I don't have pockets, the belt is not detachable, but wrapped inside out and hemmed. Large cuts on the sides. They are fastened with elastic at the bottom, it's very convenient, they don't scatter when walking, and when squatting they don't "creep" in different directions (this is important when a young lady walks under a bush :)).
Here is a closer photo of the pants themselves of these children's pants: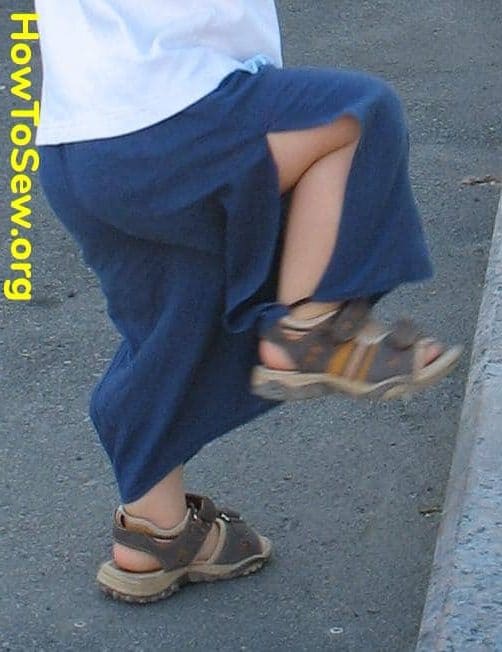 These baby pants are decorated with my favorite fringe. This is a very good place to sew on your hips. Not for nothing that all eastern dancers have such a fringe. She swings a lot of fun and bounces to the beat of a child's walking, I recommend it to everyone …
Then a second and even third life was given to these pants :)) And I told how to do this here. For you, here I am attaching only photos of updated panties. First, the ruffles were sewn down, and the next season a belt was cut and sewn that helped our beloved panties "grow" and not slide off the priests :)) The bend of the old belt was slightly worn and I decided to sew fringe around the circle and decorate the pants with beads and sequins. We still wear this kit.
A sweater shirt was sewn in the kit for the pants. Cover her simple. The sleeves are small without folds, at the bottom the edges of the front shelves are elongated so that they can be tied to a bow, at the top they are fastened with a small button with a hinged loop, All the finishing seams were made of contrasting thread – blue.
The decoration on the chest was made from the remnants of fringe, ribbon and sequins. It turned out original and unusual.