Clothing for the summer is perhaps one of my favorite sewing trends for children. Sewing baby clothes for the summer is quick and easy, no lining, no warming :)) One, two, and you're done. In addition, you need a lot of such clothes, this is not a warm jacket for you – one (maximum two) for the season. This is where mother's imagination runs wild … It didn't work out what was intended on one thing, there is always the opportunity to sew another. If you sew clothes with your own hands, then you will never meet, walking in the park, an "exit set" like your daughter (or son). Children's summer clothes should be sewn from natural fabrics. My favorite ones are gauze, cambric, chintz, cotton and of course flax. All of the above fabrics are easy to sew, they are not loose, do not leak from under the scissors and do not pour when they are scribbled on a typewriter. Sewing things from them is a pleasure. The seams are smooth and beautiful. Children's summer clothes made of such fabrics will be worn well and for a long time.
I once saw a gauze in a store, and I was glad that I didn't try its naturalness with a beautiful pattern and gleams a bit, but somehow it suddenly turned out to be very unpleasant to the touch>: ((At first I was saddened, because a child from such matter You don't eat anything, she's very biting. I remembered this lesson for my whole life. Never lose my vigilance, even if the word "marking" is written on the price tag. But! We are creative people, and in just a day I found a way out – redid the model, thought up to sew a shirt on a lining from a cambric in the color of gauze and make The shirt itself is not tight-fitting.The costume consists of a shirt, breeches and a panama.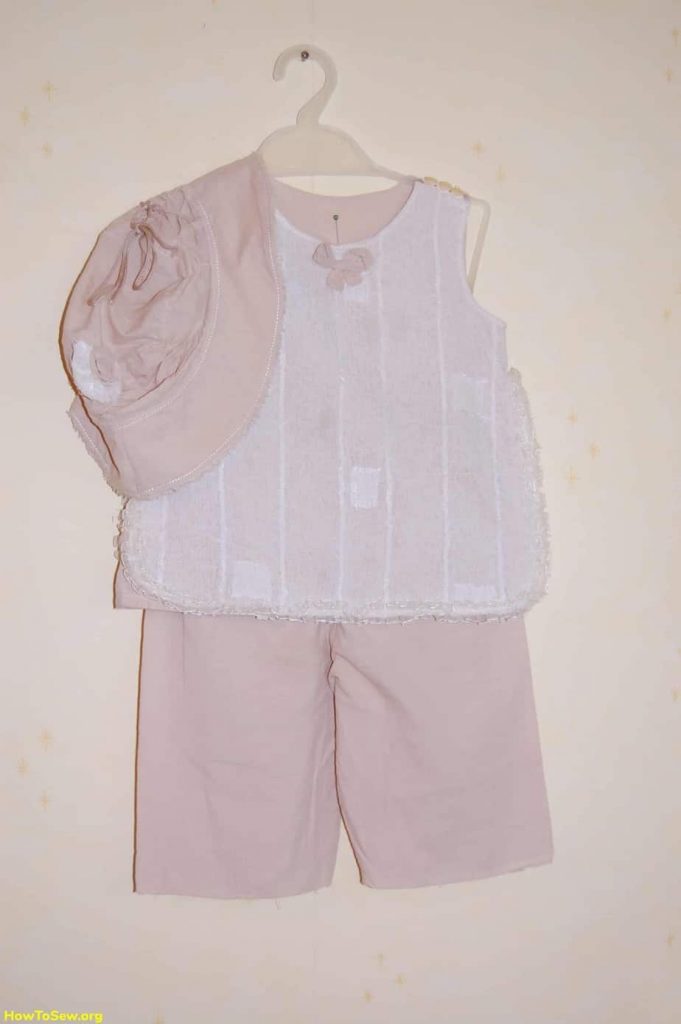 I want to tell how to sew a shirt from my summer suit. As mentioned above on the shirt material is double. We cut out two absolutely identical T-shirts, according to the sundress pattern, only a little shorter. Then they are sewn together with each other on the armhole and neck. In this case, the seams are inside .. I did not cut off the shoulder seams, they were open, it was easier to perform, and instead I inserted loops and buttons. Thus, dressing this baby t-shirt is easy. Then the sundress shirt is turned on the face, the seams are ironed and everything is stitched with a decorative thread of iris in the tone of gauze (which gleams :)). The lower batista shirt is made as follows: the side seams inside are made with a "linen seam", the bottom is double-hemmed. At the top of the T-shirt, the side seams are not sewn up, they are open and overlocked with the bottom and sewn on top of the purchased braid (ruffles in a double assembly). An ornament – a bow tie made of batista stripes, twisted and sewn in the center.
Sewing breeches was intended to be short and small, just below the knees, without pockets, just on an elastic band. In the original version, they were trimmed with a ribbon (eyelets) and assembled on an elastic band (thin stitched with a zigzag). This option was not carried long, since the gum constantly rolled under the knees and pressed in these places. My daughter did not tolerate this and I had to flog this gum. Worn then just plain.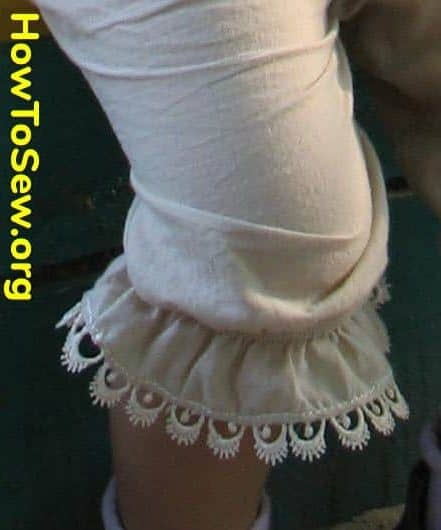 A batista panama hat with double wide brim was sewn to the kit.