I want to introduce my readers another kids dress for the next holiday. Sewing a baby dress for a daughter is always a pleasure. Everything is taken into account, doesn't prick anything, doesn't press or rub anywhere! This is great !!! What do you say? So, this dress is not simple, but "golden" :)) Well, it itself shines and shimmers, but this is not the main thing, the dress can turn into a new dress in 5 minutes. It has one removable skirt, i.e. the bottom of the skirt can be different. It can be tied or untied at will and in accordance with the solemnity of the situation.
So more about this children's dress. It was intended for the holiday of autumn. We had to go on two such holidays, my daughter wanted the dresses to be different on these two holidays, so the idea of ​​a dress with removable accessories came to my mind. Here it is one, but unfastened something and something else.
Cover it is very simple. Well, it couldn't be simpler. And it looks very impressive. The yoke is like a sundress and the bottom is a rectangle made of another fabric. I thought it was not so interesting and very simple, and made his coquette three-layered. The first layer is "full of holes", a brilliant layer of brocade is revealed through it, and a lining of thin chintz. Back in, I inserted the lacing. I put a rope for her in loops made of ribbons. The bottom of the dress is a straight piece of cotton reaper. This fabric is itself pleated, however, I have even more gathered it for greater splendor. Here is the dress itself in two versions:
I want to dwell on the details of my dress for the holiday.
Lacing is not done with holes, because the fabric is very thin and the second layer of brocade is generally loose and prickly, and with eyelets. By marking small pieces of ribbons are sewn, they are laid in the form of loops. Organza ribbon is worn in them. She drags on like a corset and transforms a child's figure, makes her more slender. Here is a closer photo of the lacing: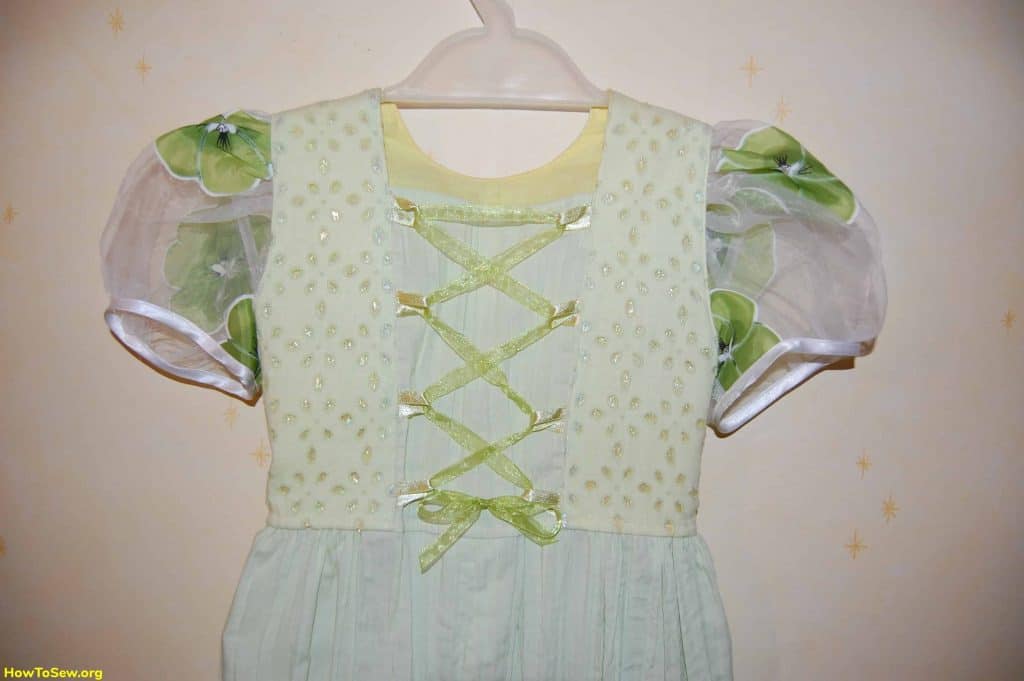 In the place where the lacing is located, the header fabric is sewn in only one layer. In the remaining places of the coquette of my holiday dress, three layers of fabric are sewn: a cat with curly holes, then brocade, and a lining: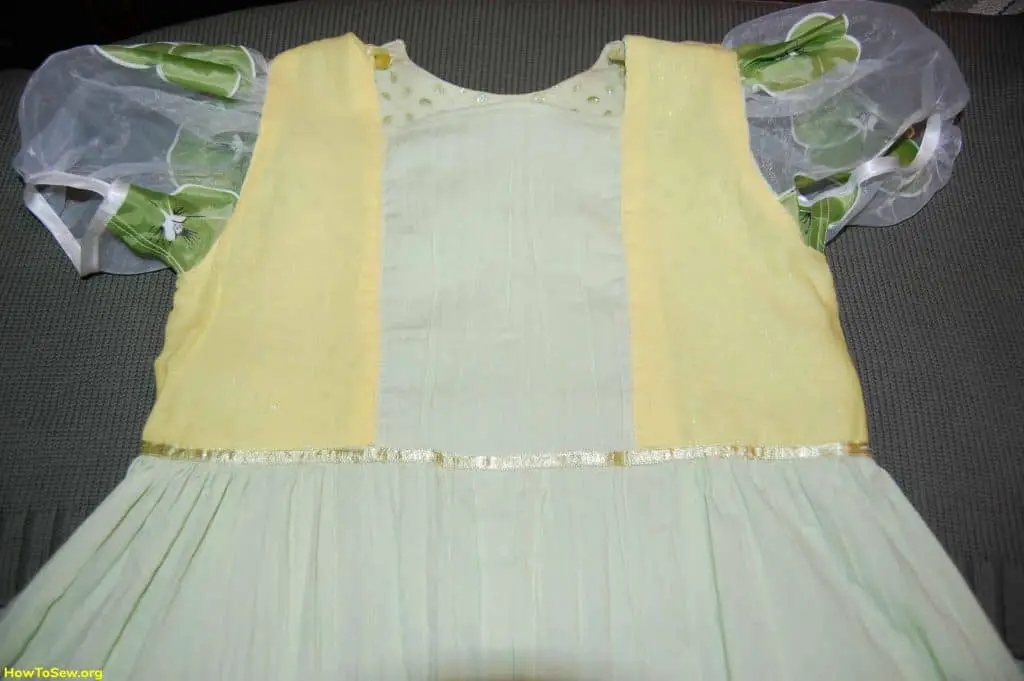 My holiday dress has a very small neck, and it's so easy not to put your head in it. Such a neck was conceived because of the beads that were attached to the dress. They are with large long weighed pieces of beads of different sizes and shapes. The neck at the front is almost under the neck, and the back is quadrangular due to the presence of lacing. The shoulder seams are sewn in half. The lining and the main fabric are sewn together by hand stitches. In the places of the cut on the shoulders air loops and small buttons are made. With this design, the head went in and out very well there.
The sleeve of this dress is a large flashlight. It is assembled in tucks on the okat and at the bottom it is also assembled. It turned out like a real ball. Organza is very dense and due to this holds its shape well. The bottom of the sleeve is finished with a white satin slanting trim.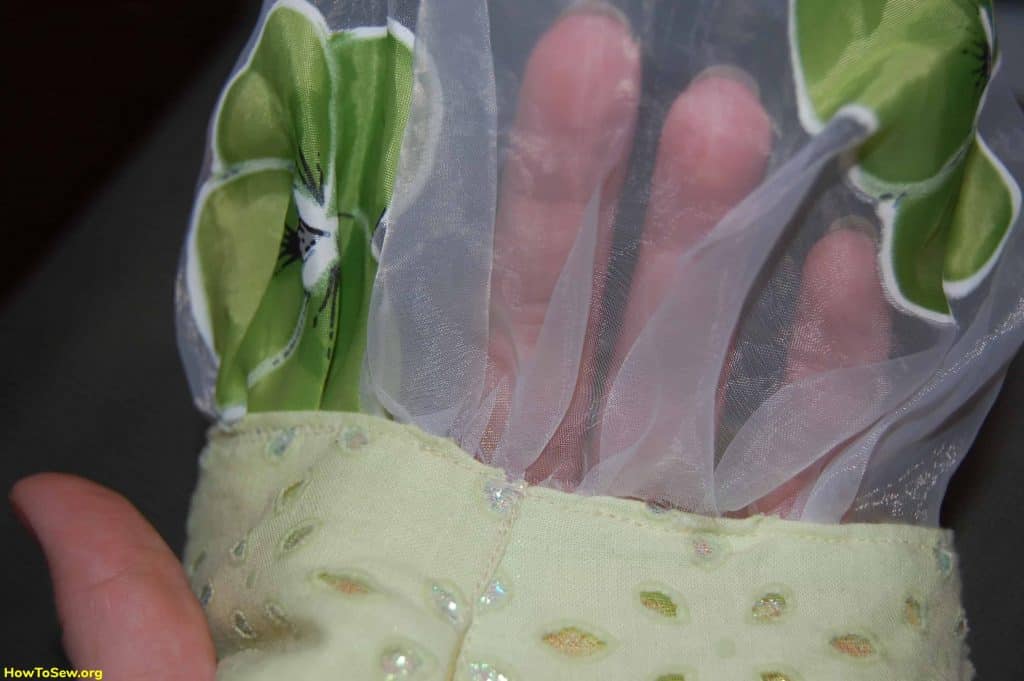 An important touch in the comfort of your princesses is the seam of stitching the coquette and the skirt of the dress. It should be processed as well as possible, should not be rough, prick or rub the skin. Threads should not stick out of it, ordinary ones will tickle the skin, and brocade ones will mercilessly prick it. I did this – processed on the overlock, and then put on a thin satin ribbon and completely closed this seam.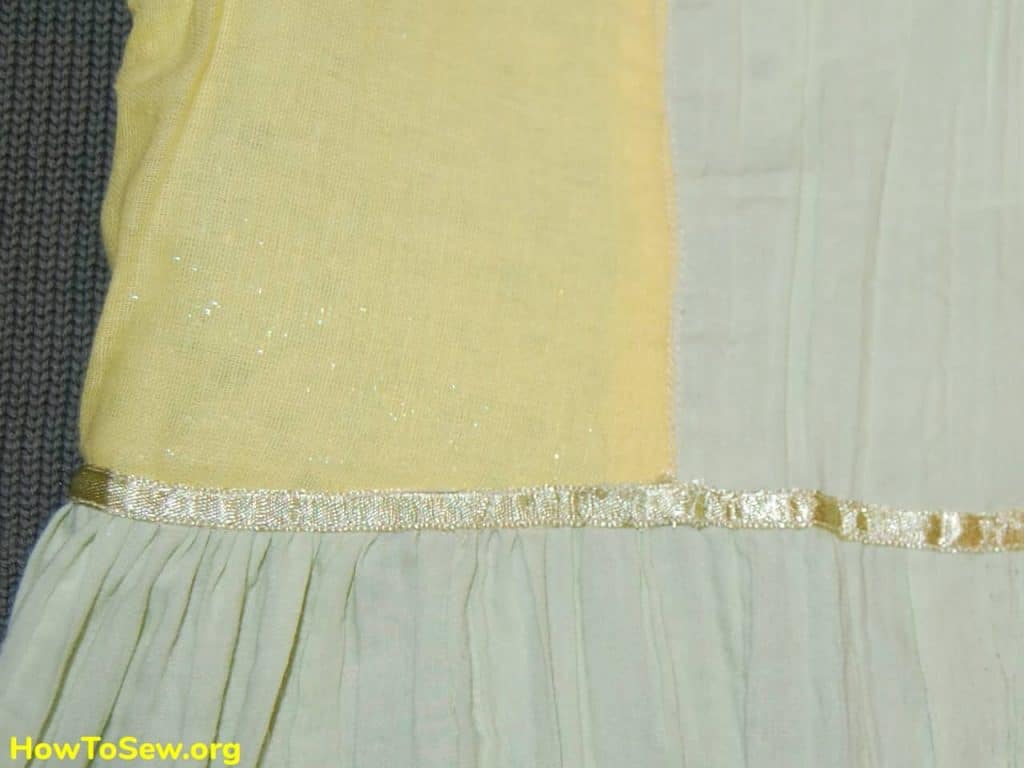 Another very important point when sewing dresses for a daughter: lightning. If someone thinks that it is enough to make the lacing at the back (or in the front) a little more freely and the child will be comfortable in getting into this dress, then he is deeply MISSED! Well, if the dress is not supposed to be made like a bag of potatoes. In the case of "potatoes", when lacing a dress you will gather so much "excess fabric" that you won't know how to deal with it and where to put it more beautifully, and it will look very unaesthetic.
I think I convinced you :)) It is necessary to make a zipper in the side seam and make the dress itself almost in shape. I did about 2 cm more from each side for "lacing" and a little "for growth". This is quite enough. The zipper inserted into the seam will be almost invisible, but it will greatly facilitate the process of dressing and undressing the princess. I inserted a regular dress zipper, not a secret one. I needed it because I had three layers of coquette including and brocade, prickly and loose …
An important addition and decoration of this elegant dress was a flower made of artificial fabric. Feathers and leaflets complete it. I sewed it on the top removable skirt of curtain organza.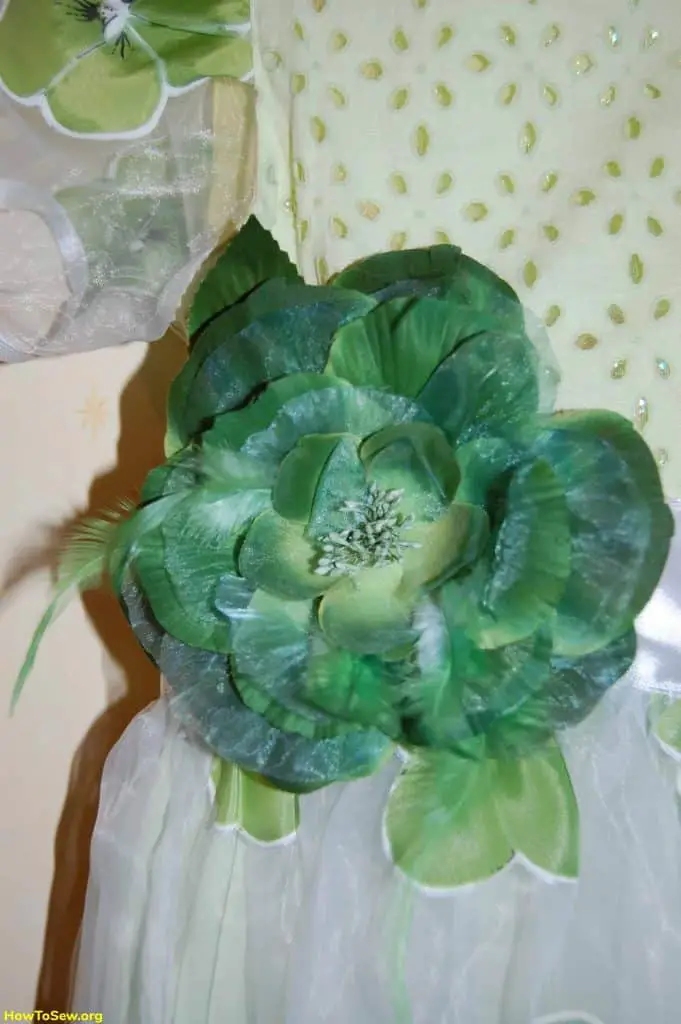 The skirt of this holiday dress is a long (2.2 meters) rectangle assembled with the help of special assembly feet with an assembly coefficient for each stitch (5mm stitch itself). This whole thing is sewn on a 5cm wide satin ribbon. (the assembly is, as it were, sandwiched between two white ribbons. The back of the skirt is not sewn up. The side sections are turned up twice and sewn with a transparent thread – monofilament. The bottom of the skirt is finished with a white satin oblique trim.
It was difficult to choose sandals for this dress. My daughter and I chose gold shoes and decorated them with fabric flowers. They are a bit like those depicted on the fabric.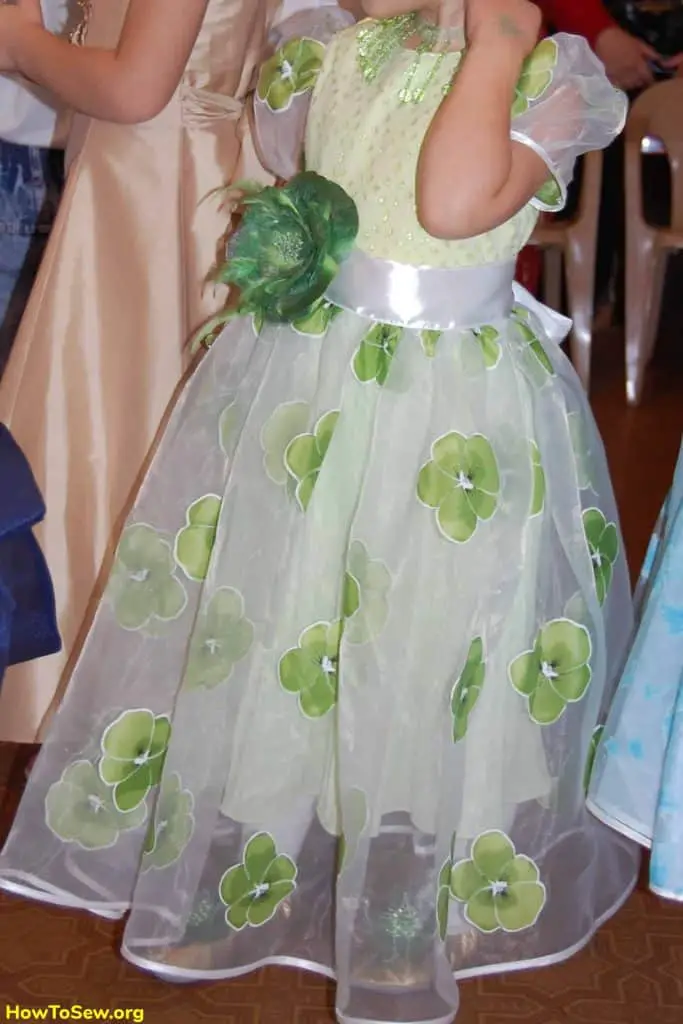 The beads are made of organza ribbon on which beads of various sizes are strung. It looks very beautiful, but it is very simple to do.
That's probably all that I wanted to tell about this dress. Well, it may be mentioned that it will also be redone in a summer sundress.