Georgette Fabric Information
You may be wondering what is georgette fabric and how it differs from other types of georgette. Before you make your final decision, read on to learn the pros and cons of this material. The fabric is commonly used for bridal wear, but you should also be aware of the drawbacks.
This article will provide information on the different types of georgette fabrics and what they are made of. Once you know these factors, you can make the right choice for your next project.
What is georgette fabric?
Georgette is a semi-sheer textured fabric. It is lightweight and good for both interior decor and dresses. Georgette is woven using twisted yarns that give the fabric a grainy feel. Depending on the type of georgette fabric, this fabric is very affordable and is great for comfort and style.
You can find a variety of different georgette fabrics from Spotlight. Read on to learn more about the benefits and uses of this fabric.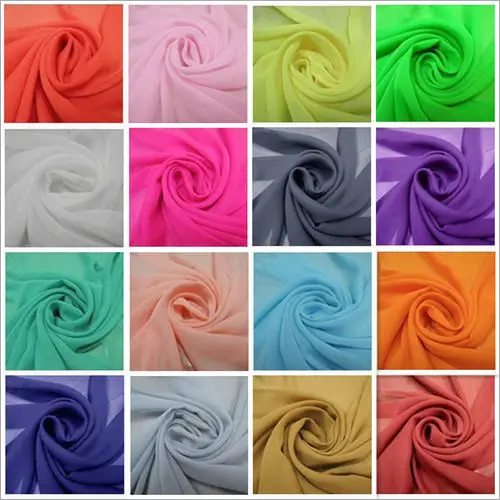 Georgette fabric is one of the most popular materials for fashion. It's made of silk or synthetic textiles, such as polyester or viscose. It has an intricate, crinkly pattern and puckering on the surface.
Georgette was introduced to the fashion world in the early 20th century and has become a popular choice for bridal and evening wear. You can find georgette fabric at most department stores and fabric stores.
Although georgette is lighter than chiffon, it's not as transparent as chiffon. Chiffon is sheerer and has a higher sheen, but georgette is better for dressmaking because of its softer, drapey quality.
Chiffon is also less durable than georgette. Depending on the application, you may want to choose a fabric that can be used again without losing its quality or feel.
What is georgette made of?
Georgette is a versatile fabric with a high degree of drape and bounce. This fabric is ideal for dresses and separates and is a versatile choice for dressmaking.
Georgette is a semi-transparent fabric that is between chiffon and voile. Its natural color is off-white. There are many different types of georgette, and each will be suited to different types of projects.
The threads used in georgette are highly twisted and crinkled. When the fabric is relaxed, the threads crinkle, giving it a unique look. Georgette fabric is most expensive in its silk form but can also be found in polyester or viscose.

It is available in various colors and prints and is a lightweight and breathable fabric. Georgette is also difficult to embroider, so embroidered varieties are typically more expensive than plain georgette.
Georgette fabric is similar to chiffon, but it's more durable and heavier. Made from synthetic or pure silk, it's lightweight, sheer, and matte-finish.
It can be purchased in solid colors or with printed floral designs. Georgette fabric was introduced in the 20th century by a French fashion designer named Madame Georgette de la Plante. It was first used in 1915 and is still popular in bridal wear.
The benefits of using georgette fabric
Georgette is a versatile fabric that can be used in various settings, from interiors to blouses. It is particularly absorbent, making it suitable for home decor purposes. However, the delicate fabric should only be washed by hand or dry cleaned.
Because it is absorbent, it cannot be washed in a machine. Alternatively, it can be hung to dry. Ensure that you follow the care instructions for georgette before washing it.
Georgette fabric comes in a wide array of colors and prints. Modern shops stock a large selection of colors and prints. This 100% silk material is an excellent choice because it retains color pigments. Additionally, the benefits of using natural fibers over synthetic materials are numerous. Here are a few:
Because georgette fabric is so thin and pliable, it can add volume to larger pieces of clothing without making them look bulky. This bouncy effect made georgette popular with women in the early 1900s. Today, it is used in fashion by modern designers alike.
These fabrics are also very versatile, making them ideal for various applications. These garments can be made into dresses or other large-scale fashion pieces.
Its tensile strength and ability to hold embroidery make it an excellent fabric for women's clothing. Royal families originally wore georgette, but with the development of artificial fibers, the price of georgette has fallen, and it is widely available.
Because of this, fashion designers are increasingly using this fabric to create layered clothing and accessories. The sheer beauty of georgette fabric is another advantage. The thin fabric can be used for various applications, from sarees to evening dresses.
The cons of using georgette fabric
Georgette is a popular fabric for Indian sarees, as it's highly absorbent and adaptable. It's also strong but not sheer, like chiffon, so women of all body types can wear it.
The fabric is commonly dyed in beautiful colors and can be embroidered or printed. However, considering the cons of using a georgette before purchasing a piece of clothing is worth it.
Despite its beautiful, colorful, and lightweight appearance, georgette fabric can be difficult. Embroidery can ruin the look of the fabric, making it too heavy. Georgette fabric can also be slippery, so tailors must use tissue paper while sewing to avoid damage. However, there are some pros to this fabric. If you will use it for a structured piece, it's best to choose another material.
Georgette is a lightweight material that comes in various colors and prints. Modern shops typically offer many colors, prints, and patterns. One of the benefits of using 100% silk georgette is that it is exceptionally good at retaining color pigments.
This is one of the many advantages of natural fibers over synthetics. It's also highly versatile and suitable for summer wear, despite its high cost.
History of georgette fabric
The history of Georgette fabric can be traced back to the early 20th century when it was first made by a French dressmaker named Madame Georges de la Plante. In the 1930s, it gained popularity for its soft, supple, and sheer feel.
While the fabric can be found in solid colors, georgette has also been printed with floral designs. The fabric was originally made of pure silk, but modern applications date back to synthetic fibers. Georgette is lightweight and holds dyes well, making it popular for various fashion applications.
Initially made of silk,
georgette
is a crepe fabric with a crinkly, puckered surface. This fabric is a high-fashion staple available in many fabric stores and department stores. It has also found a place in popular culture. Here are some interesting facts about georgette fabric. Let's start with its history. Georgette was first created by a French dressmaker named Madame de la Plante in the early 20th century.
The fabric is lightweight and breathable, making it suitable for all-purpose wear. Georgette is woven with tightly twisted yarns. The fabric is woven into both the warp and the weft, and it is a versatile fabric that can replace nearly any type of fabric. Its sheer, net-like texture makes it ideal for evening dresses and skirts. In addition, georgette fabric can be a replacement for almost any other fabric.
How to care for and clean georgette fabric?
Proper care is essential to maintain the beauty and durability of your georgette garments. You should avoid washing, ironing, or bleaching georgette fabrics. To clean georgette clothing, wash it by hand or dry clean it. If you do not know how to clean the georgette, follow these simple steps.
Follow the cleaning instructions provided on the label or tag, and you will enjoy your new georgette garments for many years.
After washing, lay flat to dry. Never iron the georgette fabric or leave it in direct sunlight. The tight fibers of georgette can damage the fabric over time. Dry cleaning is best for some georgette garments, while hand-washing is fine for others.

If dry cleaning is not possible, follow the manufacturer's instructions. In most cases, hand washing is sufficient. Dry cleaning can be expensive, but it is recommended that you consult an expert before you proceed with it.
Georgette fabric is available in many different qualities. While both fabrics have benefits, they are generally inexpensive and do not look as elegant. They can be woven from different fibers and have different wear and tear characteristics. Georgette is very breathable, allowing air to circulate. In addition, georgette dries quickly and is resistant to dust and mold. As a result, georgette is often used for clothing.
---
FAQ
Main georgette fabric colors
red
green
pink
black
purple
grey
white
yellow
blue
Main georgette fabric brands
Ambesonne
Robert Kaufman
SanVera17
eLuxurySupply
Lunarable
ben textiles inc.
Fabric Merchants
Michael Miller
APC Fabrics
Cotton + Steel
TELIO
Sophia-Art
Spoonflower