So what can be sewn from checkered fabric. For example, a straight shirt without tucks or a pleated skirt. These are the simplest options, but they do not become less elegant from this. In general, checked fabric and striped fabric is always a winning option for any clothing.
The fabric itself is already an adornment, decor on it is optional or it can be, but just a little bit. A prerequisite is the coincidence of decorative finishes with any color of fabric in a cage (strip). Models for a child should not have many details of the cut, so as not to "break" the cage (strip). For a child, the shirt itself will be small, so I would not advise making pockets and other small details of a different direction than the main canvas. It is ideal to choose fabric on such parts so that these parts merge completely.
So let's move on to our shirt for the girl. I bought a small remainder of striped fabric (there are also horizontal stripes, so it can be called a striped strip :)) The color is just perfect for a child. the shirt is very bright and elegant. We wore it for a long time and loved it very much. Daughter always dressed her with great enthusiasm. Cut a straight line, all-cut fit, the collar is triangular, but the ends are not sharp, but rather rounded. Sleeve without assemblies and frills.
Now a little about the decor. The only element is the slits of the loop. They are made according to the type of loops, each "loops" are two loops made at a distance of 1 cm from each other. On the sleeves of my shirt for the girl, I calculated the loops so that the center of the sleeve is free. In this case, passing the ribbon, you can tie a bow. Tapes can be changed, they are removed. This is very convenient when you have to iron your shirt. Here's the actual sleeve closer: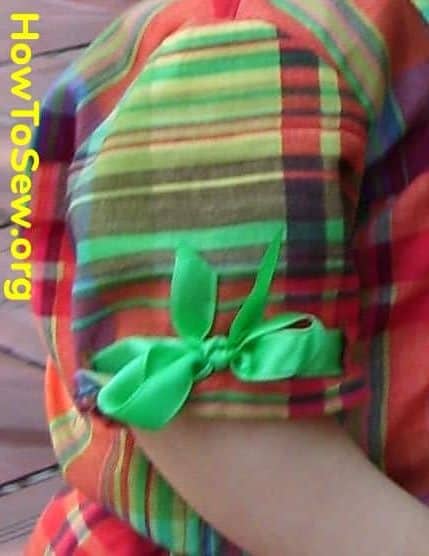 I made the same loops at the waist. We also dressed ribbons there and used them as belts. I trimmed my shirt and made loops of thread, a very neutral color. I applied a lot of different coils and found that color, the least contrasting to the fabric. Since I have a very motley fabric, the shirt itself is very small and there are a lot of loops, then the contrasting threads would only ruin everything. Everyone was satisfied with the result, I – that I conquered this difficult strip … and my daughter, that I received such a funny little thing …
P.S When the daughter grew up and the waistline shifted, we pulled out the "baby bows" and the belt and carried the shirt for no reason. And once again I praised myself that I hadn't made a bright decor of loop loops, in our version they were practically invisible and did not spoil the picture.