Why Burlap Should Be Your Go-To Fabric
Have you ever wondered what Burlap fabric is? What is it made of, and what are the benefits and cons of using this type of material? Read this article to find out! Once you understand the fabric's basics, you'll be able to apply it to many of your home decor projects. Whether you're a novice or an experienced home decorator, there's bound to be a Burlap project you'll love.
As Amazon Associates, we earn from qualifying purchases.
What is Burlap fabric?
What is Burlap fabric? Burlap fabric is made from jute, a natural fiber. It has a coarse texture and is ideal for various decor projects, such as rugs, curtains, and pillows. Burlap is often sold by the yard. The fiber comes from tough stems of plants. It can be recycled or used in other crafts, including clothing and wallpaper. Despite its rustic look, it is one of nature's most eco-friendly fabrics.
Burlap has many uses, ranging from packaging to crafts. Its strength, tear resistance, and durability make it an excellent material for many crafts. Burlap is durable and can withstand a variety of conditions, including repeated wetting and drying. It is also inexpensive, making it an excellent choice for any project that requires a natural and eco-friendly material. Besides being a great fabric, burlap is also an eco-friendly material that can be used for many different purposes.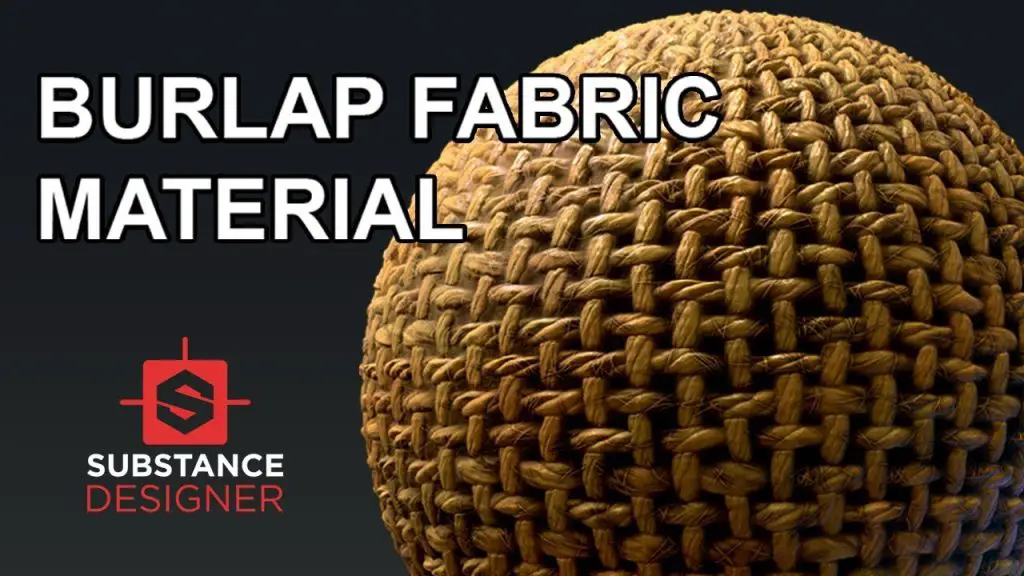 Burlap fabric is a strong, loosely-woven cloth made from the fibers of hemp, jute, and flax. It is not commonly used in modern apparel because of its coarse texture, but it is used for religious purposes as sackcloth on Ash Wednesday and mortification clothes. It was commonly used by farming families during the Great Depression. The abrasive texture of burlap can cause rashes on sensitive skin.
What is Burlap made of?
You may be wondering, "What is Burlap fabric?" Burlap is a naturally occurring fiber that comes from the jute plant. It is a coarse, textured material with an earthy beige color. It is used for drapes, crafts, and other home decor applications. Because burlap does not stain easily, it is one of the most eco-friendly fabrics you can find. It is available by the yard, so you can easily get enough for your project.
Burlap is also known for its incredible strength and durability. The strands of this natural fabric can withstand repeated wetting and drying, resulting in a sturdy, long-lasting material. Burlap is incredibly versatile, and comes in a variety of weights and sizes. This allows you to make a wide variety of home decor, crafts, and furnishings using it. It is also very affordable and eco-friendly.
Although the origin of burlap fabric is not known, it is a common type of woven fabric used for a variety of crafts and decor items. It can protect plants and serve as a covering for flower planters and potatoes. Often used for baskets and flower planters, burlap fabric can be an excellent substitute for natural materials such as wood. If you're looking for something with a smoother finish, you may want to opt for mirrored tiles or a windowless room.
The benefits of using Burlap fabric
One of the best ways to protect your plants from pests and weather is to cover them with burlap. During the winter, burlap helps keep rabbits and mice away from your seedlings. However, burlap is not a weed-control agent. You can lay it around larger plants and rows of plants to discourage weeds. In addition, burlap is a great way to cover the roots of your lettuces and other delicate crops. It will also help retain moisture and build soil.
Burlap is a great alternative to plastic. Burlap is inexpensive, versatile, and eco-friendly. You can use it for outdoor activities, crafts, and even art. Because it is a renewable resource, burlap's popularity will only increase. Burlap is made from jute, which grows in a matter of six months. When grown properly, jute provides a bountiful harvest. This plant is also extremely efficient in its growth, requiring less land to produce.
Burlap is 100 percent biodegradable. It will decompose within a month if used responsibly in a compost pile. The fibers of jute are also biodegradable, and the leftovers are used for firewood in local communities. In addition to being biodegradable, jute plants replenish soil with macronutrients. By purchasing burlap, you are supporting a more sustainable farming system.
The cons of using Burlap fabric
Burlap is highly susceptible to disintegration and fraying. However, washing it in warm or hot water may cause it to shrink. The same goes for letting it dry indoors. The odor may also be transferred to other items when it is soaked in water. To avoid this problem, it is recommended to dry clean burlap. However, if you must wash it, you can use a mixture of vinegar and water to get rid of stains.
Burlap is a natural fiber made from jute, hemp, and flax yarns. Its production is relatively sustainable and does not cause significant environmental damage. It is also used for home decor, gardening, and DIY projects. In addition to home decor, burlap is also great for apparel and accessories. However, it may be a bit too porous for some applications. Because burlap is made from natural fibers, there may be some labor issues involved, but most manufacturers are aware of these concerns.
Nevertheless, despite these problems, it is an extremely versatile and affordable fabric. If used correctly, burlap fabric can provide tons of texture and unexpected warmth. It can also be used as a covering for baskets and containers. The good news is that burlap is available in a variety of colors, patterns, and textures, making it easy to find the perfect match for any decorating project. And since it's easy to dye, you'll never have trouble finding something that suits your personal taste and your style.
History of Burlap fabric?
There is a fascinating history behind the use of Burlap fabric. Its original name, 'hessian', is thought to have originated in the Hesse state in Germany, where the soldiers wore Burlap uniforms. Since then, the fabric has been known by this name. However, the fabric actually originated in India, where jute was an abundant crop. In earlier times, the plant was used for ropes, and it was brought to Scotland by English immigrants. After it reached Scotland, it was spun into a yarn and used for clothing, carpets, and other uses.
Since the 18th century, hessian production soared in India. From there, hessian was exported to the rest of the world. In the World War II, the fabric was often used as a camouflage, and today, Burlap is a popular alternative to canvas for art. Since it is a strong fiber, Burlap fabric can be used to create a variety of clothing. While it is difficult to find a history of Burlap fabric, the emergence of this material is indicative of the development of fashion.
Jute was first used in ancient India for packing agricultural merchandise. But the English introduced jute to Europe and the rest of the world. This plant, which is related to sisal, has been used by Indians for thousands of years. It is a strong, natural fiber that is incredibly affordable. It is an excellent choice for table runners, pillowcases, and decorative items, such as sacks and quilts.
How to care for and clean Burlap fabric?
Cleaning Burlap is a little tricky because of its interwoven nature. Though it has a beautiful appearance, the interwoven nature also makes it vulnerable to dirt, dust and debris. It is important to follow the proper cleaning instructions for this delicate fabric to maintain its elegance and beauty. Here are some useful tips to take care of your burlap furniture, sandbags, and other home decor. You can use mild detergent, but always choose cold water. Do not wring the fabric after washing it.
You can clean burlap by wiping it down with a damp sponge or blotting it dry with a towel. If you have a large amount of burlap, you can wash it in a bathtub or utility sink. You should only use a washing machine to wash tablecloths or burlap with a fine weave. Once it dries, you can store it in a dry place to keep it in good condition.
If you notice a strong smell on your burlap, you should consider treating it with lemon juice, vinegar, or baking soda. If the odor remains, leave it out for at least one day before reusing it. Do not store burlap in a damp place for too long or it will shrink. You should also lay it flat to dry so that it does not collect too much moisture. Make sure that the area is well ventilated.
---
FAQ
Main burlap fabric colors
green
pink
white
yellow
purple
blue
black
grey
red
Main burlap fabric brands
Robert Kaufman
SanVera17
Ambesonne
Sophia-Art
Spoonflower
eLuxurySupply
TELIO
Lunarable
Michael Miller
Fabric Merchants
ben textiles inc.
APC Fabrics
Cotton + Steel