I like to sew kids costumes for the summer. Now I will explain – a suit I call light sets; they include children's breeches or trousers, a T-shirt and a panama.
And all this from one piece of fabric. The fabric remains in the scraps at least, and the maximum of necessary things :))
Sometimes, if there is enough fabric, I can also make some bolero or wrap. The sun fries in the summer, and with the bolero the shoulders are always closed.
This article is about a fun yellow striped kids costume. Striped cotton was used for him. The set consists of breeches, a T-shirt and a panama
Children's shirt made of striped fabric with different directions of stripes. Ahead vertical, behind horizontal. The back was gathered on a thread-elastic band. I wrote in more detail how to scribble with such a thread in an article about a turquoise elegant dress.
For such an assembly as in the photo, I doubled the back pattern.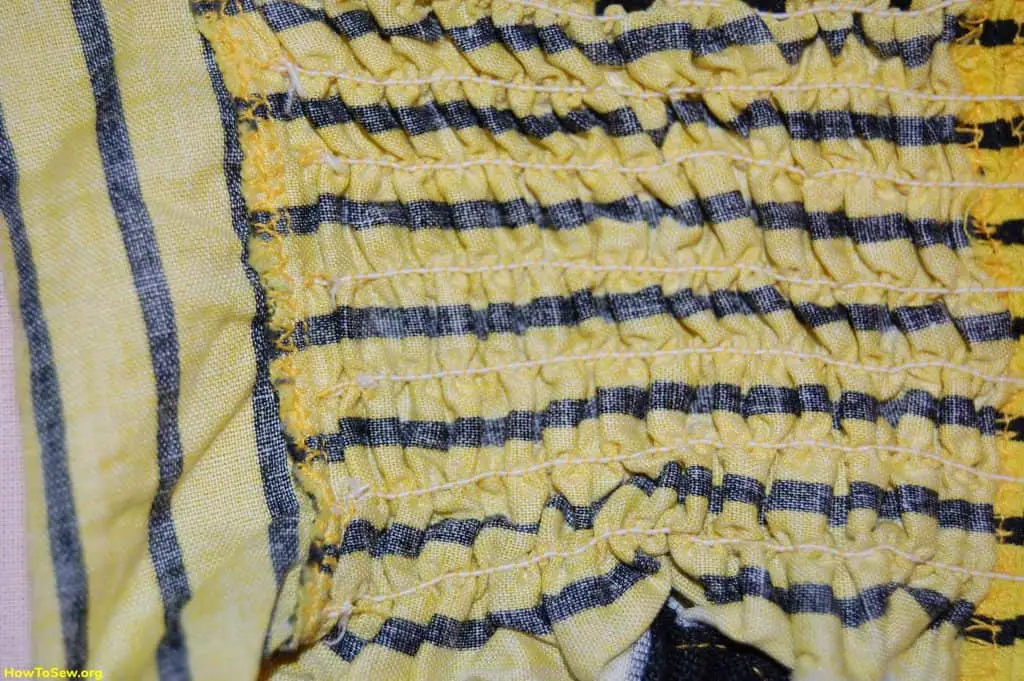 I want to share my observation: the thinner the fabric, the more beautiful the assembly with a thread of elastic. The fabric then shrinks better. And the gum thread is also of different quality. Sometimes the braid in it is loose and the elastic itself is "flabby", as it were – do not take this, just torment yourself. It can burst very quickly during operation (tensioning, removing and putting on the product) and you have to alter all the work. It's better then to insert small flat elastic bands into the grooves between the main fabric and the lining. And sometimes there is almost such a braid as on hat elastic bands (well, almost) this is good. You need to look for such a thread gum, it is durable and makes assembly better.
The edges of the shirt were treated with a tape made of 100% cotton. It is also called rep tape. I really like to use this tape. There is only one drawback – we offer a small selection of colors. If for example a satin oblique edging can be selected not only with a similar color, but even with a shade, then there is no such luxury. Well, that is, that is …
Children's breeches 4 fingers below the knee. On striped fabric breeches, the pattern of stripes runs vertically both front and back. They are made in a simple straight pattern, elastic and lace are worn at the waist. No pockets. Breeches at the side seams with large cuts for ventilation :)) At the bottom, a wide elastic band 2cm. This width is optimal for this place. Children have very delicate skin under their knees and if you insert a thin elastic band, during operation this elastic band "rolls" just under the knees and rubs the baby skin there. We also had such "wrong" children's breeches, I wrote about them, and how sad it was for me to "spoil" the image of that costume, but I had to rip this thin elastic out of the breeches.
Children's panama is generally unremarkable, except that it is sewn from tiny scraps, which I was customized by joining the drawing. Tula in head volume plus 1cm. freedom of fitting and bottom, how to build a pattern of the bottom according to the available data of the tulle I told in the article a hat made of faux fur.
So the whole suit took one meter of fabric, with a width of 1.5m. The suit was worn for two summers, at first it was just sewn, then it redid the belt and wore another summer. They extended the "life" of children's breeches as I described in the article alteration of clothes.