What Is So Great About Genuine Suede Fabric?
If you are considering buying suede fabric, you may be wondering what is so great about it. Here are some facts about suede. Firstly, it is made from genuine suede. Next, we'll discuss the benefits and disadvantages of using genuine suede in your clothing.
This will help you make the right decision when purchasing suede fabric. However, before you make a purchase, it's worth finding out about the various types of suede available.
What is genuine suede fabric?
What is the genuine suede fabric? It is a fabric made from the hides of various animals. The most common animal hides used to produce suede are lamb, goat, deer, pig, and calf. Older cows and deer have thicker hides with a 'nap,' or raised surface, made from tiny hairs. You can distinguish genuine suede from imitation suede by looking at the color and feel of the fabric.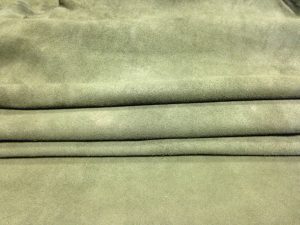 The surface of genuine suede is textured, which makes it very easy to damage. Besides being prone to stains, suede is also susceptible to puncture. Needles will leave holes in the fabric and pinholes will be painfully visible. Therefore, when sewing suede clothing, make sure to use polyester thread instead of cotton-based thread. Polyester thread allows the fabric to move and will reduce the possibility of breakage.
Suede was originally used for gloves. Later, it became popular for accessories such as shoes and handbags. While it is no longer common to find gloves made of suede, the fabric can be used for a variety of different purposes, including handbags and footwear. Even hats, belts, wallets, and belts can be made out of suede. It is also used as decorative items like cowhide throws.
What is genuine suede made of?
Faux suede is a man-made material that mimics the appearance of genuine suede. It is made from polyester microfibers and polyurethane plastic. This synthetic material is less expensive and less durable than genuine suede, but it looks and feels close to the real thing. Faux suede is often made in a matte finish and has a defined "grain," just like the real thing. In addition to resembling real suede, imitation suede is also machine-washable, unlike the genuine stuff.
Real suede is made from the underside of an animal's hide. Faux suede is made of synthetic materials, such as polyester or polyurethane. While real suede is softer and lasts longer, its quality can vary. It is easier to clean than imitation fabric. Fake suede is generally cheaper, but it will not hold up to moisture, so be sure to dry it before using it.
Although suede has many benefits, it does have disadvantages. Suede is thin and not as durable as leather, which can be problematic if you wear it for extended periods of time. Suede also doesn't decompose, so it will become brittle and lose its softness much sooner than other types of leather. Suede will also look older and worse if it gets wet, which is not something you want for your stylish footwear!
The benefits of using genuine suede fabric
The fabric is soft and drapable, and has many benefits over its cotton counterpart. The suede is highly durable, waterproof, and thermally insulated, making it an excellent choice for winter weather. It also retains its shape and color, meaning that it will last for several years. Even better, it's warm to the touch, which is a big plus for winter wear. And since suede is made from animal hides, the process of making it is much more expensive than other materials.
Although suede is less expensive than other types of leather, there are still several reasons to use it. Many people believe that wearing suede prevents waste, which is good news for the environment. It also protects our health, especially when we wear our shoes. While the benefits of suede are many, there are some drawbacks as well. Despite the high price, suede is a high-quality fabric that can last a lifetime.
Leather has an organic odor. Compared to plastic, the leather retains its odor for a long time. Plus, it is harder to manufacture than synthetic materials. And it's easy to clean – even if you have a child with an accident on your shoe. However, if you choose to purchase suede, you'll have to be extra careful about the quality of the material. However, it's worth considering the benefits if you're unsure about whether or not to buy it.
The cons of using genuine suede fabric
There are many advantages to using suede textiles for your clothing, but you should remember that suede is very susceptible to dirt and moisture. Therefore, you should wash suede products only in a professional cleaning facility. To minimize damage, you can wear thick socks while wearing suede boots. Also, you should clean suede textiles thoroughly after every use. However, you must be careful not to overdo the cleaning process as it may cause permanent damage to the suede fabric.
One of the most significant disadvantages of suede is its inability to resist water damage. As suede comes from the inner surface of an animal, it is not waterproof. Moisture can wreak havoc on suede garments. Another disadvantage is that the material is difficult to clean. In fact, suede fabric can be more difficult to clean than leather. Consequently, many people are choosing faux suede for their clothing instead.
The price of suede is high. Although it is less expensive than leather, it is prone to stains and is only suitable for indoor use. Suede is an extremely soft and luxurious fabric that is also slightly more porous than leather. In addition, suede is less durable than traditional leather. However, its price range allows for many different products, including shoes and bags. The color scheme of suede is generally light brown or gray.
History of genuine suede fabric
Genuine suede fabric is a luxurious material that can be used in a variety of products, from clothing to home furnishings. The production of suede dates back to the Paleolithic era, but the modern industry only began to use this versatile material as recently as the Industrial Revolution. Its rich history is rooted in the invention of different tanning chemicals, and its smooth feel has made it a sought-after item in the fashion industry. Designers today work with tanneries to create unique leather for each piece.
Although most of the leather we use today comes from animals, suede is a booming industry in its own right. In fact, the production of this fabric is so profitable that many people believe that leather is a way to prevent waste by wearing it. However, the process of producing leather can be extremely resource and energy-intensive. Many animal parts are discarded to maximize profit. The skins, which are the most valuable part of a cow, are often sold off to maximize profits.
In 1970, Japanese scientist Miyoshi Okamoto developed a synthetic material that looks and feels like suede but can be machine-washed. This new material is a perfect imitation of suede because it does not require a stain-resistant or odor-resistant coating and is also machine-washable. It is more common in industrial applications but is not available as a pure leather alternative.
How to care for and clean genuine suede fabric?
If you have bought a suede fabric piece of furniture, it is imperative that you follow the care instructions to preserve the quality of the material. First, check the care tag on the piece of furniture. It will provide you with all the necessary guidelines to clean your suede. If your suede is coded W, you may use water-based cleaning solvents. If it is coded S, you must use a solvent that is water-free. When cleaning suede, make sure that you do it in a well-ventilated room and avoid using open flames.
When cleaning genuine suede fabric furniture, it is important to vacuum it once a week. This prevents the accumulation of dirt within the fibers and keeps the piece looking clean and pristine. However, the fabric is also water resistant, so spills will bead up and be easy to wipe away. However, spills containing food and beverages should be dabbed out immediately with a spoon or spatula.
In case of dry stains, you can use a sponge or a pencil eraser. Use light pressure to remove stubborn stains. However, you should avoid abrasive brushes, as they can cause permanent scarring. To revive the nap of genuine suede fabric, try rubbing it with white vinegar. Make sure to dampen the cloth with the solution, but not soaking it. Applying this solution will remove stubborn stains from the suede.
---
FAQ
Main genuine suede fabric colors
grey
black
red
pink
white
blue
yellow
green
purple
Main genuine suede fabric brands
Fabric Merchants
Ambesonne
Lunarable
ben textiles inc.
Robert Kaufman
APC Fabrics
Sophia-Art
eLuxurySupply
Spoonflower
SanVera17
Michael Miller
TELIO
Cotton + Steel