Fleece Fabric and How It's Used
Have you ever wondered what is fleece fabric? What are the benefits and drawbacks? In this article, we'll explain exactly what fleece is, as well as how you can use it. We'll also examine some of the benefits of fleece fabric in sewing.
Here are some of them and what should you know about the drawbacks. You should always know about the fabric's shrinkage before you attempt to sew it.
What is fleece fabric?
A good guideline for choosing fleece fabrics is to focus on two main aspects: weight and warmth. While fleece is warm, its lightweight nature makes it ideal for cold weather clothing. Additionally, it has a short pile, which tends to trap heat and increase body temperature. For these reasons, fleece is often used in blankets and outdoor clothing. To choose a good fleece fabric, make sure to research its construction. The following tips will help you find the best fleece.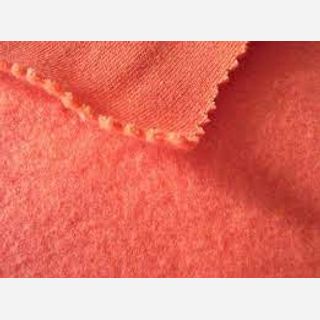 Wash your fleece clothing in cold water only, as warm water can cause the material to pill. Fleece also needs to be kept away from other clothing that produces lint. Lint is difficult to remove from a fabric with a fleece finish. Avoid bleach and fabric softener when washing fleece garments. When washing fleece fabric, always remember to check the label. It will tell you what type of care the fabric needs.
The process for making fleece starts with the production of polyester. This type of material consists of small polyester fibers that are synthesized in a process called spinning. Polyester is sometimes blended with other materials to increase the quality of the fleece. To make polyester, petroleum products are heated until they form a heavy syrup. The polyester threads are then spun into a fabric, which is soft and breathable. Lastly, polyester is often treated with a water-repellent substance to make it waterproof.
What is fleece made of?
There are several different types of fleece fabric. There are polar fleeces, plush fleece, and microfleece. Each one has unique qualities, and all three are remarkably soft against the skin. Plush fleece, which is the softest of the three, is commonly used as a lining for hats. Microfiber fleece is softer, but still warm and durable, and is most often used to make housecoats and shirts. It also contains lycra, which makes it suitable for sportswear.
Polyester is the main fiber used in making fleece. Polyester takes decades to degrade, while cotton biodegrades in a matter of months. The rate of decomposition depends on the type of fabric and the condition it is in. However, recycled polyester uses 59% less energy than virgin polyester, so it's more environmentally friendly. And if you want to be environmentally friendly, you can even find fleece that's made from recycled plastic bottles!
A combination of wool and hemp can make fleece durable. Wool and hemp are often combined with other fibers for better insulation. Hemp fleece is an example of this. It contains hemp and other natural fibers. Some fabrics contain recycled plastic bottles, which give fleece a unique texture. Plastic water bottles, which are often recycled, can also be used to make fleece fabric. Another type of fleece is made from an old pullover.
The benefits of using fleece fabric
The benefits of using fleece fabric are numerous. This fabric is lightweight, provides warmth, and looks great. It is also durable and doesn't pill or fray easily. This material is also available in different styles, so you can choose the right one for your particular needs. You can find fleece fabric in different weights and colors, so you're sure to find one that suits your taste. If you're interested in using fleece fabric for your winter gear, here are some tips for buying fleece:
Fleece is a lightweight material that is typically made from polyester. The polyester fibers are brushed, resulting in a soft, thick fabric. Some polyester yarn is recycled from old soda bottles. You can find fleece in most stores, and it's both moisture and durable. It also keeps you warm in cold weather. It is also eco-friendly. Here are some benefits of using fleece fabric:
Fleece has low-maintenance properties. You can wash fleece clothes in the same washing machine as other fabrics. You don't need to use any special detergent, or dry them in any special way. Just make sure to wash them in cold water on a gentle cycle and use a powder detergent instead of liquid. Avoid fabric softeners and bleach when washing fleece. You can purchase clothing made from fleece, which is environmentally friendly.
The cons of using fleece fabric
There are numerous pros and cons of using fleece fabric. For example, it is light, provides warmth, and looks good. Also, it is durable, and does not pill or fray easily. However, it is not the best fabric to use if you want to be fashionable. Luckily, there are plenty of options for you. You can find various types of fleece. Here are some pros and cons of using fleece fabric:
The main disadvantages of using fleece fabric include the fact that it requires special care. You must wash it in cold water and avoid any clothing items that produce lint as lint is difficult to remove. You should also avoid bleaching or using fabric softener on fleece fabric. Also, it is best to wash dark colored fleece in cool water. It also dries quickly. The downside of using fleece fabric is that it is not very flexible.
Another con of using fleece is that it is flammable, and not as eco-friendly as cotton. It also generates static electricity and attracts pet hair. It also tends to be too warm in hot weather. If you want to wear fleece fabric, however, consider that this fabric is perfect for cold climates. As it has similar properties to wool, it is lightweight and warm, and dries quickly. You may be wondering what you should avoid while using fleece.
History of fleece fabric
Faux-fur and wool clothing are two popular materials used for creating warm winter garments, but they also have significant differences. Faux-fur and wool are composed of several layers, while fleece jackets are made of a single layer of polyester fleece. Below are some differences between the two materials, and some historical facts about both. If you're interested in avoiding the cold, buy a real-wool jacket instead of a synthetic one.
Today's fleece fabric is made primarily from polyester (polyethylene terephthalate), a synthetic material that is light and insulating. It can also contain natural or recycled fibres. The invention of polyester was first credited to the textile company
Malden Mills
in the late 1970s, after which the fabric was marketed to consumers. The company that produced Polarfleece, now known as Patagonia, was one of the first to introduce the material to the sportswear market.
In 1979, Aaron Feurstien invented polyester fleece, which solved many of the problems faced by wool. It was also created without the need to raise sheep. The material has evolved since then to include finer threads and increased durability. To date, fleece has become a staple in winter clothing. Its use in clothing has increased by four-fold. In fact, it is now used in almost every industry that manufactures outerwear. So, it's no wonder that its history is so interesting.
How to care for and clean fleece fabric?
To preserve the softness and beauty of your fleece clothing, it's important to learn how to care for and clean this fabric properly. Even if the material is extremely durable, washing it incorrectly can damage its softness. Follow the instructions on the label to care for and clean your fleece clothes properly. Washing fleece can cause the fabric to lose its texture or even lose its shape. Avoid high heat, as this can damage the fibers.
To care for your fleece garments, wash them on a gentle cycle. Avoid using harsh detergents, such as bleach, as these can damage the fabric's water-repellent finish. Also, be sure to rinse the items thoroughly after each use. To maintain the shape and style of your fleece clothing, make sure you wash them separately from other clothes. Similarly, be sure to turn them inside out after washing them.
To remove wrinkles from fleece clothing, you can use a brush with stiff metal bristles. Start brushing from a corner and work your way across the blanket. Once you're done, your fleece will be fluffier than before. If you find that you've lost any fluff from your fleece, you can try using a razor to remove it. Using a lint roller can help reduce the amount of shedding.
---
FAQ
Main fleece fabric colors
purple
yellow
white
blue
pink
black
red
grey
green
Main fleece fabric brands
Sophia-Art
APC Fabrics
Michael Miller
ben textiles inc.
Spoonflower
Fabric Merchants
eLuxurySupply
Lunarable
Ambesonne
Robert Kaufman
TELIO
SanVera17
Cotton + Steel