The Different Uses Of Tulle Fabric
Whether you're making a wedding dress or simply want to make a special occasion outfit, tulle fabric can make your next project look absolutely stunning. This light, airy fabric is used for occasion wear and weddings, and is pretty easy to sew.
It helps to use paper patterns to mark the stitching lines when sewing seams. You can also use a rotary cutter to cut tulle fabric and a self-healing mat to ensure accuracy.
What is tulle fabric?
Tulle is a type of fabric that's often used as a lining under dresses. Because it's relatively lightweight, it can be used in many layers to create an invisible lining. Some tulle is flesh-colored, which makes it look like it doesn't have a lining. It can also be used under a sequin or beaded mesh fabric to provide more stability. Its versatility makes it an ideal fabric for many different purposes, from gowns to skirts.
The most common uses for tulle fabric are for wedding dresses and lingerie. This fabric's sheer, translucent nature makes it an ideal material for a wedding gown. Tulle is best teamed with a soft lining to keep it from ruffles and tassels. Embroidery is a great way to add a special touch to a tulle gown. Just be sure to line the garment with a soft and breathable fabric to prevent fraying.
Tulle fabric is a thin, netting material that's usually starched. This type of fabric is usually used for wedding dresses, but is also used for tutus and veils. Tulle is also often used for party decorations, and can be dyed to match any color of wedding gown. It's an excellent choice for wedding gowns, and it can make a beautiful addition to any party.
What is tulle made of?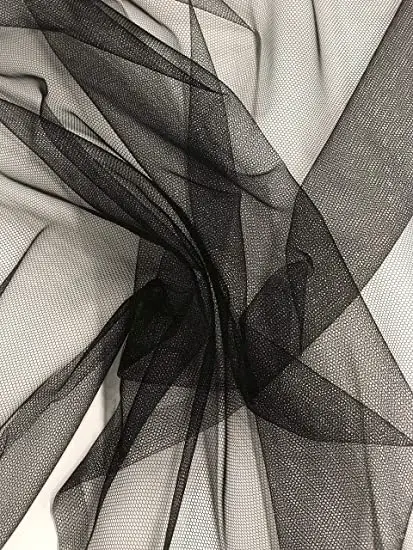 Tulle is a fine hexagonal netting. It may be made of cotton, rayon, or silk but is most commonly made of nylon. It is more lightweight than bridal illusion, and has many uses. It is used in many types of garments, but is most often seen as an overlay or skirt. It can also be used as a lining under other materials, such as beaded or sequin mesh, to give the garment added stability.
Tulle has a multitude of uses. In addition to being used for weddings, it can be found in many different kinds of gifts. In addition to creating beautiful wedding veils and dresses, tulle is also used to protect plants from insects, especially mosquitoes. Starched tulle works particularly well for this purpose. It is also used for various kinds of decoration, including home decor, costumes, and lingerie.
Tulle is an elegant and versatile material that is lightweight and can be dyed with ease. It is typically about 160-180 cm wide and weighs 14 grams per square meter. It is used for evening gowns, wedding costumes, gift packaging, and other special occasions. Tulle can be stiff or pliable depending on the fibers and weave used. Some tulle is starched, while others are not.
The benefits of using tulle fabric
Tulle fabric is a thin, lightweight net fabric used for embellishing wedding dresses. It is often made from nylon, polyester, silk, or cotton. Because it is very resilient to abrasion, it is a great material for flashy clothing. Tulle also gives clothing more shape and volume, so it is a versatile choice for many types of projects. This article will explore some of the benefits of using tulle fabric in your next sewing project.
As a lightweight and flexible fabric, tulle is very easy to sew. For example, you can sew it without worrying about the fabric unraveling. You can use a paper pattern to guide you through the process. You can also use a rotary cutter to cut the tulle fabric. It is essential to cut the tulle carefully and evenly. For better results, you should sew with the fabric from the back and the inside.
When sewing with tulle, use polyester thread. Sew tiny stitches, as they will stretch with the fabric. Embroidery stitches may not work as well on tulle as they do on other fabrics, but backstitch, French knots, satin stitch, woven pin-wheel, and satin stitch will work well. For more delicate work, use a cord or ribbon sewed along the edge with a zigzag stitch.
The cons of using tulle fabric
Tulle fabric can be challenging to work with and can snag easily. Many designers simplify the name of the material to make it easier to work with. This material is also thinner than lace and can be steamed quickly. But be aware of the cons before you use tulle fabric in your wedding gown. Read on to learn more. Hopefully, these pros and cons will help you choose the suitable fabric for your big day.
Tulle is difficult to clean and will not do well in areas where the temperature is extremely cold or very hot. While tulle is attractive, it is not very practical in the kitchen, as the fabric actively absorbs grease and odors. However, its decorative qualities still make it popular among interior designers. Depending on the space and the homeowner's preferences, tulle can add a nice touch to a room without blocking natural light.
Tulle can be a beautiful choice for a wedding. Although it's lightweight and easy to work with, tulle can easily tear or get damaged. Some alterations will be required before the wedding. Tulle also tends to catch debris and dirt, so it's not a good choice for specific venues. It can also be a bit expensive to buy and alter. So what are the cons of using tulle fabric for weddings?
History of tulle fabric
The name "tulle" is derived from the town of Tulle, France, where the material was first created in the early 17th century. At that time, it was used as a decorative fabric, but as silk production began in the 18th century, the name "tulle" was also given to the material. Queen Victoria used tulle for her wedding dress in 1840, launching the fashion for veiled hats. It was soon used for ballet tutus, too, and eventually became associated with weddings.
Tulle fabric was initially made using hand-knotting methods, but in 1808, tulle was manufactured using mechanised looms in Leicestershire. These looms worked the silk fibres on a warp and weft, producing the material in greater quantities. Originally only reserved for the upper class, tulle was a popular material for evening dresses, wedding gowns, and lingerie. As time went on, it became more affordable and readily available to the public.
Today, tulle is a lightweight netting fabric that is often layered with other materials. It was first used to make underskirts and petticoats to form the bell-shaped silhouette of ballroom dresses. Then, the use of tulle spread to other areas of fashion, including furniture and decorations, theatrical costumes, and hair accessories. However, the popularity of tulle has remained, and its versatility has led to it being used in so many different applications today.
How to care for and clean tulle fabric?
Tulle is a popular fabric that is often hung in homes, giving the room more light and comfort. However, the housewives often wonder how to maintain the original beauty of tulle, especially if there are stains or yellowness. Although removing stains is pretty easy, it can be time-consuming and requires some effort. Before cleaning the tulle, make sure to shake it well outdoors to remove dust and other debris. Do not use bleach-based products on tulle, as this can cause the fabric to fade quickly and leave marks.
The best way to clean tulle is to use a gentle, organic detergent. Bleach and strong detergents will discolor the fabric and destroy it. Washing tulle should be done in cool water on the gentlest cycle. Never squeeze it or rub it too hard. Lastly, when you wash the tulle, you must remember not to squeeze it. This will cause the fabric to shrink and become more like a rag.
While tulle is machine-washable, it is recommended that you avoid washing it in the washing machine. You may also damage the netting and hardware of your clothing if you use it in a machine. To avoid damage from heat, dry it on an air-drying rack. Also, spot stains should be treated with a mild soap, not harsh. Vigorous rubbing will mar the netting.
---
FAQ
Main tulle fabric colors
yellow
grey
pink
red
purple
blue
green
black
white
Main tulle fabric brands
APC Fabrics
Michael Miller
TELIO
ben textiles inc.
Fabric Merchants
Cotton + Steel
Ambesonne
Sophia-Art
Robert Kaufman
SanVera17
Spoonflower
eLuxurySupply
Lunarable