Muslin Fabric – A Closer Look
What is muslin fabric? What uses does it have in crafting? What are some of its pros and cons? Let's take a closer look! This fabric is often used in fashion design, as lining and backing for quilts. Because it is inexpensive and plain, muslin is often used as a mock-up for patterns.
This way, designers can test fit the pattern before cutting more expensive fabric.
What is muslin fabric?
If you have never worked with muslin fabric, you may be wondering what it is and how to use it. The basic reason for its use is to make a mock-up of a garment. It is an inexpensive fabric used to make mock-ups for garments. It is also useful for practicing tough stitching techniques and testing new patterns. It is also machine washable and air-dry, making it a convenient choice for pattern testing and mock-ups.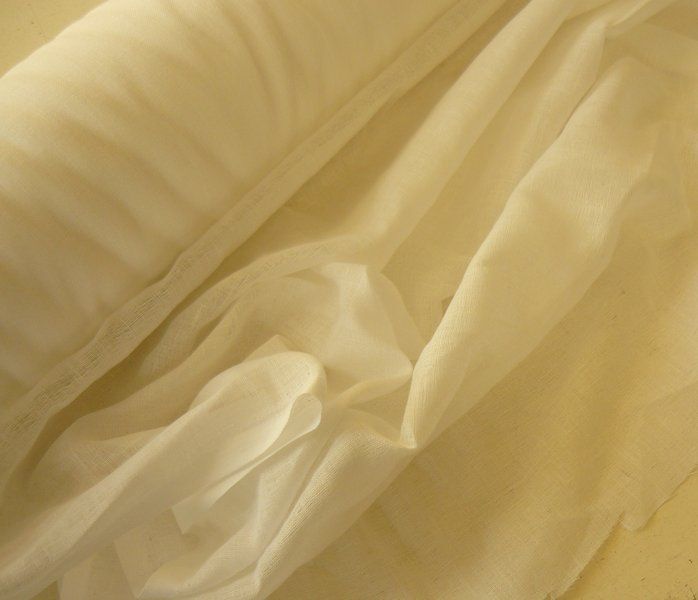 The main advantage of muslin over other types of cotton is its lower weight. The loose weave of muslin makes it more breathable than cotton. Cotton has a higher thread count and is more durable, while muslin has a much lower one. However, muslin is not as strong as cotton and is better suited for gauzy, airy fabrics than apparel. Also, unlike cotton, muslin has fewer warp threads, which makes it less prone to stretching.
Although the history of muslin is not entirely certain, it is widely known that it originated in the Middle East and India. It is still a popular fabric in the Middle East and India, and Chicago Canvas and Supply is one of the largest producers in the United States. Similarly, Jante Textile in Turkey makes ready-made products and sells them wholesale. Its uses are almost endless. So, what is muslin fabric?
What is muslin made of?
Muslin fabric is a cotton textile with a fascinating history. It was first encountered by European traders in Iraq in the ninth century. It was so prized that Marco Polo wrote about it in his book. It got its name from the town in Iraq where it was discovered, but it came from Bangladesh. The fabric spread rapidly throughout Europe during the 18th century and reached France. French designers became obsessed with its benefits and began producing clothing made from it.
Various types of muslin are used in sewing. The highest quality muslin is used in final clothing pieces. There are four primary uses for muslin in fashion.
Muslin is soft, pliable, and durable. It is also suitable for decorating your home or crafting projects. Muslin fabric is chemical-free and hypoallergenic. You can use it for cooking, interior furnishing, and quilting, and it is also inexpensive and widely available. If you're looking for a beautiful, high-quality fabric for your next sewing project, muslin is an excellent choice.
Among the many uses for muslin, the main one is for baby clothing. It is light and comfortable, making it an excellent choice for blankets and clothes for small babies. It is also a perfect choice for cooking because it doesn't retain moisture as easily as other cotton fabrics. Muslin is also great for cooking, so you can buy unbleached muslin for your next cooking project.
The benefits of using muslin fabric
If you are a sewer, you might have heard of the many benefits of using muslin fabric. Because of its natural qualities, muslin cloth is a great choice for household items. Its open weave helps prevent bacteria from growing. On the other hand, regular flannels have a tendency to retain moisture and become a breeding ground for pests. As a bonus, muslin cloths are also a good option for the environment since they are made from all-natural materials and are easy to clean. The advantage of using muslin cloths is that they can be used for other jobs as well.
Muslin fabric is a versatile and inexpensive choice for many household items. Many types of upholstered furniture are covered in this material. It also makes for great pillow inserts and is very comfortable to sleep on. Fine muslin can be embroidered to make beautiful pillows. You can also use muslin to make bandages and tie bandages. In addition to being an excellent choice for household items, muslin is also an excellent option for making gift bags.
For those who love photography, muslin makes a beautiful background for your photos. A simple pajama pant can be made from muslin, and fine muslin is often used for petticoats for children. It's also perfect for photography because muslin can be dyed in a variety of colors. It also works well as a quilt backing.
The cons of using muslin fabric
Whether you're creating a baby quilt, a t-shirt for your child, or a beautiful drape for your bedroom, muslin fabric is one of the most versatile fabrics available. Its fire-retardant properties make it an ideal choice for many projects. However, this fabric has some drawbacks as well. If you're wondering whether muslin is right for your project, you'll want to read the cons before using it.
One of the biggest disadvantages of muslin is its limited color range. Although true muslin is 100% natural cotton, there are many types of muslin fabric that contain synthetics. Moreover, muslin is not as easy to clean as cotton fabric. Furthermore, it is very absorbent, which causes color transfer when washing. It also has a tendency to wrinkle easily. While muslin is an excellent choice for many purposes, it does have some cons.
Another con of muslin fabric is its flammability. If you plan to use muslin spray in your home, you will need to adhere to fire code standards. Check with your local fire department for details on this. Besides, muslin fabric is lightweight and can be used for both clothing and as a kitchen filter. It's also great for summer clothing due to its breathable properties.
History of muslin fabric
The history of muslin fabric goes back thousands of years. It was first produced in Mosul, now part of Iraq. It was then imported to Europe and later manufactured in England and Scotland. Today, muslin fabric can be found in many countries. Some of its most famous uses include:
During the 17th century, the demand for luxury clothes grew, and the weavers struggled to supply the East India Company with affordable garments. As a result, they were buried in debt, as they were paid only a small fraction of the cost of the garments they produced. Even worse, if the British didn't like what they bought, they'd still be liable for paying the entire amount. However, in the 19th century, competition helped the weavers rid themselves of this debt.
Muslin fabric is a fine, sheer fabric made from cotton. It was often differentiated by its weight, texture, and thread count. Different varieties were used for different purposes. The earliest muslin fabrics were produced in East India, from locally grown cotton. Marco Polo wrote about the fabric in 1298 CE, and it eventually spread throughout the Western world. Its popularity led to the creation of garments for the Royal Family and a variety of other prestigious companies.
Before the elite women of Europe began wearing muslin clothing, it was sold throughout the world. The ancient Greeks and Romans were known to have appreciated muslin fabric. An unknown Egyptian merchant wrote about the muslin of India 2000 years ago. In the 14th century, a Moroccan explorer named Ibn Battuta exhibited muslin fabrics in the Crystal Palace. The Chinese explorer Ma Huan also made use of the fabric for her bedroom.
How to care for and clean muslin fabric?
You may be wondering how to clean and care for your muslin fabric. This is an important question to ask yourself when purchasing muslin clothing. First, check the label for any possible problems. If the fabric is white, oxygen bleach can be used. If it is colored, use non-chlorine bleach. For stains that don't require rinsing, you can mix baking soda and water. Apply the paste to the stained area and let it sit overnight. Rinse it the next morning. You can also use commercial stain remover agents.
When cleaning a muslin fabric, it's best to use a gentle detergent. Avoid harsh cleaning agents like fabric softeners and chlorine bleach. It's also important to dry muslin in a low temperature, rather than hanging it up to dry. The fabric should be protected from direct sunlight, as exposure to sunlight can cause it to fade. The following tips are a good starting point for caring for your muslin fabric.
The first thing to remember is that muslin is a breathable, versatile fabric. It's lightweight and soft, and it will continue to get softer as you wash it. In fact, if you wash and dry it regularly, you'll be able to keep it around for much longer! And it's not just for clothing! You can use it for other household purposes as well, including sieving and food preparation.
---
FAQ
Main muslin fabric colors
black
white
red
blue
purple
green
yellow
pink
grey
Main muslin fabric brands
TELIO
SanVera17
Spoonflower
Lunarable
Fabric Merchants
eLuxurySupply
APC Fabrics
Robert Kaufman
ben textiles inc.
Sophia-Art
Cotton + Steel
Michael Miller
Ambesonne