The Benefits and Disadvantages of Flannel Fabric
What is flannel fabric and how can it benefit you? Read on to discover some of the benefits of flannel fabric and learn more about its benefits and disadvantages. Also, find out why flannel is so popular for sleepingwear.
As Amazon Associates, we earn from qualifying purchases.
This fabric is great for insulating, but there are disadvantages. For one, it can be a bit warm, so it's not ideal for wearing outside during the summer.
What is flannel fabric?
What is flannel fabric? Flannel is a loosely-woven fabric with a brushed feel on one or both sides. It is warm, breathable, and durable, and is popular during the fall and winter seasons. Flannel has been around for 400 years, and is often used in pyjamas and other clothing for warmth and comfort. It is soft and can be a bit bulky, but has many benefits, including the ability to enhance drape and add weight to other types of fabric.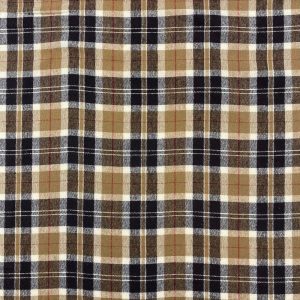 Flannel is made from cotton and has similar properties to wool. However, it does not keep heat as well as wool. In addition, flannel is most softened when the yarn is loosely woven. Flannel can be made from both cotton and wool, but is generally made with a plain or twill weave. Flannel is often brushed or napped to increase the amount of air pockets in the fabric.
Flannel is an extremely soft fabric that is commonly used for blankets, bed sheets, and other home textiles. It is a medium-weight fabric with a napped finish. Because of its soft texture and warmth, it is a popular fabric choice for bedding during the winter months. It is also inexpensive, making it an affordable choice for bedding. However, flannel can be difficult to sew. Here is a breakdown of how to sew with flannel:
What is flannel made of?
Flannel is an extremely soft fabric that is traditionally made from cotton. Its napping process and light weave create the feel that many people associate with flannel. Wool is one of the main ingredients for true flannel. Cotton is also commonly used for shirts, sheets, and even as a blanket. It has a history dating back to the 17th century. While it can be made from a variety of fibers, cotton is the most popular.
Although flannel is incredibly warm, it is also extremely breathable. Flannel sheets allow air to circulate, keeping you cozy during cold seasons. Flannel sheets are typically made from organic cotton or recycled plastic bottles, which means that they don't harm the environment or your health. And, the best part about flannel is that it can be worn all year long.
Flannel is a fabric that is typically used for products designed for cooler weather. It is a good material for coats, blankets, and sleepwear. Its soft texture makes it durable and will not stretch or shrink. Generally, flannel has a more durable weave than cotton. It will also last much longer compared to cotton. There are several reasons why people choose flannel over other fabrics.
The benefits of using flannel fabric
The softness and warmth of flannel is a great selling point for this popular fabric. When shopping for flannel, it's best to try it out before buying. Ask for a swatch from a fabric store and wash it several times. When possible, dry it out on low heat and enough humidity. If you're worried about shrinkage, use a dehumidifier.
Flannel is made of wool, cotton, or other synthetic fibers. Its loose, fluffy texture makes it a popular choice for bedding, winter pajamas, and other products. Flannel can be dyed any color to make it even more versatile. This is why it's so popular for use in quilts, sheets, and blankets. And it doesn't feel too bulky or hot – you can wear it in any weather.
Flannel is available in various colors, designs, and weights. Most flannel fabrics are made of cotton and are easy to care for with standard washing. Flannel doesn't wrinkle easily, but it does pill. If you're worried about pilling, you can always wash it in the machine before using it. But you should be careful not to dry it too much. The fabric will shrink slightly. You can also use a dehumidifier.
Another benefit of flannel is its moisture-wicking ability. It keeps the body's heat inside, which is essential for farmers who are required to spend most of their time outdoors. Also, it's naturally antibacterial, preventing fungal infections and rashes. Flannel is also easy to maintain, as most flannel shirts are made with a cotton blend.
The cons of using flannel fabric
While flannel is an attractive material for home textiles, there are some cons to using it for clothing. Flannel is a naturally breathable fabric, and it sheds. It is also susceptible to static electricity, and has a high tendency to collect dust. These drawbacks can affect the wearer's experience. If you want to avoid these issues, consider other options. Here are some tips for choosing flannel for your home.
Flannel is a soft, fluffy fabric. Flannel is made of cotton or wool and has a very unique appearance. Flannel is brushed with a fine metal brush to create raised fibres that give the fabric its characteristic softness and texture. The flannel fabric was first made in seventeenth century Wales by sheep farmers who were looking for a warm way to stay warm in cold weather. It quickly spread to France and England, where it became popular with working-class people.
Flannel is popular in winter and autumn clothes because of its heat-retaining properties. It is also soft and comfortable, making it a perfect choice for sleepwear. However, flannel has several disadvantages as well. It is extremely warm and may not be appropriate for outdoor wear in warmer months. This fabric is not ideal for clothing intended for babies. It is also not very comfortable for babies. It can be difficult to clean, so it's not recommended for young babies.
History of flannel fabric
The history of flannel fabric began in the nineteenth century, when it was used to create durable and warm garments. The fabric's popularity was increased by textile traders bringing the material to England and France. In the early 19th century, flannel was used for many different purposes, including the manufacture of workers' underwear and basic coats. The development of mass-production was further increased by the Industrial Revolution, and flannel soon became a staple in men's apparel. The popularity of flannel fabric grew with the Civil War, when flannel was used for soldiers' basic coats and undershirts. Hamilton Carhartt, who created the first flannel clothing company, made the fabric popular in the United States.
Flannel was first made from wool. This type of fabric has a high degree of softness. Its brushed and unbrushed texture is characteristic of its warmth and insulating capabilities. Flannel can be made from a variety of fabrics, but silk, a highly refined fabric, is not suitable for making flannel. The fabric was a hit with blue-collar workers in textile factories, which produced glass and iron.
In the 1950s, flannel was embraced by the American businessman. The gray flannel suit was substantial and held its crease beautifully, and reeked of responsibility and stature. Flannel was welcomed into boardrooms and sawmills alike, and soon flannel became the ultimate casual ware. Today, flannel remains the most popular fabric in many places.
How to care for and clean flannel fabric?
Flannel is a popular household fabric, which gives off a cozy feeling even in colder climates. However, this type of material is also susceptible to shrinking, which means that proper care is essential for extending the life of your flannel. Follow these steps to keep your flannel pieces looking bright and new for a long time. Use a mild detergent in warm water to clean the fabric. Do not wash flannel with hot water, as this will damage the material.
Before starting a project with flannel, it is important to press the fabric properly. The best way to press the fabric is by holding the iron in one place for a few seconds and lifting it up again. Attempting to iron flannel by slipping the iron across the fabric will distort the fabric and cause unwanted stretching. If you are concerned about the fabric shrinking, use a cool iron.
Flannel is delicate and needs special care. Avoid using a hot water cycle on flannel fabric. It shrinks easily due to the heat exposure and tends to fray. Instead, dry flannel in a cool place. However, if it feels stiff, you can use a tumble dryer to gently tumble it on low heat or fluff. Do not tumble flannel for prolonged periods because this will only cause it to shrink.
---
FAQ
Main flannel fabric colors
grey
purple
green
black
pink
yellow
red
white
blue
Main flannel fabric brands
Fabric Merchants
Robert Kaufman
Michael Miller
Spoonflower
Lunarable
Sophia-Art
TELIO
SanVera17
eLuxurySupply
Cotton + Steel
Ambesonne
APC Fabrics
ben textiles inc.