Canvas Fabric Options: What Are The Best Ones For You?
You've probably wondered what is canvas fabric. The material is a heavy-duty, plain woven fabric commonly used for sails, tents, marquees, backpacks, and more. Artists also use canvas as a painting surface, stretching it across a wooden frame.
Its many uses extend beyond the physical realm, too, including in fashion. Here are some benefits and disadvantages of using canvas. Let's begin with the advantages.
What is canvas fabric?
A plain woven fabric, canvas is used for a variety of purposes. Its main applications are oil paintings, handbags, electronic device cases, and shoes. Canvas can be made from cotton fibres or polyester. Polyester canvas tends to be cheaply produced and looks similar to plastic. It is, however, durable and is a great choice for some types of clothing. Here's an introduction to canvas. This article covers both types of canvas and their benefits and disadvantages.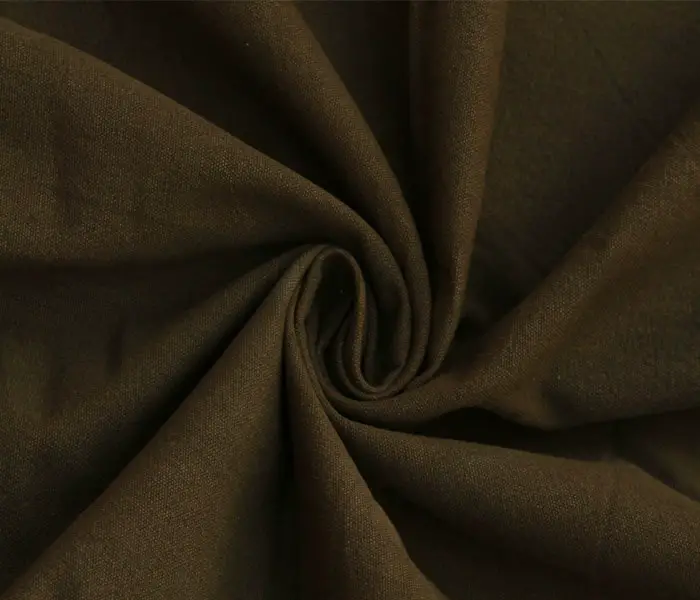 There are many different types of canvas, each with its own advantages and disadvantages. While canvas is generally made from cotton, it can also be made from linen or duck. Although they both have the same fiber content and weaving technique, canvas is slightly different from denim. Unlike denim, canvas has a plain weave and comes in two basic types: duck and linen. The name duck refers to a tighter weave, while the term duck is derived from the Dutch word for cloth (doek). In the United States, canvas is categorized by its weight and graded number system. These weights run from light to heavy.
To maintain your canvas fabric, you need to be extra careful about the type of detergent you use. Generally, you can't machine-dry canvas fabric. To prevent fading and stains, use a mild detergent and an overlock sewing foot. However, don't wash treated canvas if you want to maintain its rigidity. Some canvas manufacturers treat their fabrics with wax or polyvinyl chloride, which adds a layer of water resistance. Some people also choose to waterproof their canvas fabric with a coating.
What is canvas made of?
When you think about the word "canvas", you may assume that the material is made from hemp, cotton, or linen. All of these materials are lightweight, durable, and easy to work with. The word "canvas" actually comes from the Greek word "canabis," which means hemp. It's believed that the ancient Greeks popularized this fabric, but it's also possible to find evidence of cotton canvas being woven in ancient India. No matter what the origin of this material is, the fabric has stood the test of time.
Although cotton is a common fabric for canvasses, linen is a superior choice. Linen is stronger and has a more uniform surface than cotton. Cotton, or "cotton duck," is also highly resistant to sunlight and mildew, while its elasticity allows it to stretch to accommodate large painting surfaces. Both cotton and linen canvas are durable, but cotton is a more economical choice. Hemp canvas is also stronger than cotton, making it an ideal fabric for a canvas.
Cotton duck canvas is another material that is widely used today. Cotton duck canvas is a high-quality material used for a variety of industries, including garments, bags, and shoes. It's water and stain-resistant, making it an excellent choice for clothing. Cotton duck canvas is the most common canvas material, and India is the world's largest producer. Heavy cotton duck is often used for machinery belts and for hoses.
The benefits of using canvas fabric
In addition to the many other benefits of using canvas, one of the primary benefits is its low weight. Canvas has an extremely tight weave, so the dyed color stays vibrant. Because of this, it readily accepts various chemical treatments to increase water, fire, and mildew resistance. Once treated, canvas will remain durable for decades, requiring less maintenance than other fabrics. The following are some of the other benefits of using canvas fabric.
Waxed canvas is a type of canvas that has been treated with wax. The wax prevents the fabric from leaking water. This process is commonly used for waterproof equipment covers. Painting canvas is another common use of canvas. It can be purchased in rolls or stretched over a frame. The weight and thread count of canvas fabric vary depending on the type of painting or craft you're planning to do. Depending on the type of canvas you choose, you can purchase a canvas that is textured or without a surface texture.
Other benefits of using canvas fabric include its versatility and strength. This versatile fabric has several practical applications, including bags, quilts, and tarpaulins. It is made from cotton, linen, and polyvinyl chloride. It is also water resistant and can resist a variety of weather conditions. For these reasons, many people choose canvas fabric as a durable material for their home or business projects. Once you start using it, you'll find that you'll be glad you did.
The cons of using canvas fabric
Although canvas is widely used in fashion, it is not particularly attractive for printing. Though canvas is naturally off-white or ecru in color, some companies chemically treat it to improve its qualities and make it low-maintenance. This type of fabric is also durable, but lacks drape is an important attribute to keep in mind if you plan to use it for clothing. However, it is important to note that the benefits of canvas fabric outweigh the cons.
Cotton seeds are often genetically modified and require pesticides to grow. Over 12% of the world's fresh water is used for farming cotton. Non-organic cotton farming also pollutes water and ruins the environment. The use of pesticides also poisons cotton pickers. Using organic cotton, hemp, and canvas is a better choice than using PVC, which is not very environmentally friendly. However, there is still a way to avoid this.
Another disadvantage of canvas is that it is not waterproof. But the fabric is highly resistant to abrasions and tears, which makes it ideal for workwear, housewares, and outdoor tools. It can be dyed in any color or pattern, and it is durable enough to withstand a lot of wear and tear. However, there are disadvantages to using canvas fabric as it is not very flexible. This fabric is not suitable for garments that need to stretch.
History of canvas fabric
The fabric is a versatile, durable, and water-resistant material. The history of canvas goes back to the ancient Romans, who used it to make wristbands for training their eagles. In the medieval ages, canvas became a mainstay of oil painting in Europe. This material immortalized many masterpieces through the centuries and remains relevant in the art world today. One type of canvas, called duck canvas, is made of coarse yarns that are tightly woven together. This type of canvas is often used for military tents, duffle bags, and other items that experience intense pressure.
The earliest examples of canvas are made of hemp. Hemp was the oldest fiber-yielding plant known to man. Early Chinese people were already making cloth from hemp around 3,000 B.C. Hemp has high strength, making it excellent for ropes and cords. The natives of India began weaving cotton into fabric around 1500 B.C. It was not until the eighth century that cotton made its way to Europe. Boat builders in Europe quickly adapted cotton canvas to use in their sails.
The history of canvas fabric is a fascinating one. This durable, plain-woven fabric was originally made from hemp, a relative of marijuana. Cotton, which was much more convenient for the early days of canvas manufacture, started to replace hemp in the 1500s B.C., and quickly became popular, especially among Venetian painters. It was cheaper and more durable than wood panels, which absorbed moisture and warped over time. The Venetians also used canvas to make sails for their ships.
How to care for and clean canvas fabric?
To take care of canvas, you must clean it regularly. To do so, first remove dust and environmental residue from the canvas. Scrub any dirt and grease from the top layer using a soft brush and a mild detergent solution. Do not scrub the fabric too vigorously, because you could damage it. Afterwards, rinse it thoroughly with clean, clear water and allow it to dry. Do not use solvents or abrasive detergents to clean canvas, as they can weaken the fabric.
If you want to clean heavily used canvas, you can re-wax it. To re-wax the canvas, you should use Martexin Original Wax. To re-wax the fabric, use a rag and apply the wax on the canvas. When it dries, use a blow dryer or direct sunlight to dry the canvas. Make sure to allow the fabric to completely dry before placing it outside.
To clean the canvas, use a mild detergent, such as dishwashing detergent, gentle body soap, or liquid laundry detergent. You can also mix baking soda with hot water. Then, use the sponge to gently scrub the canvas. If the stain is particularly difficult to remove, use rubbing alcohol and hot water. Apply the mixture with a stiff brush. Allow the canvas to air dry. And finally, don't forget to apply a protective coat of wax.
---
FAQ
Main canvas fabric colors
grey
green
black
pink
white
red
blue
purple
yellow
Main canvas fabric brands
TELIO
eLuxurySupply
SanVera17
Sophia-Art
Lunarable
Spoonflower
APC Fabrics
Michael Miller
Ambesonne
Fabric Merchants
Robert Kaufman
Cotton + Steel
ben textiles inc.