The Benefits and Disadvantages of Batik Fabric
If you have never heard of Batik fabric, you might be wondering what is it and what it is made of. This article will help you understand the benefits and cons of this type of fabric. Using Batik fabric is a great way to add unique, hand-painted designs to your home.
As Amazon Associates, we earn from qualifying purchases.
However, there are some things to remember when purchasing and using it. Listed below are some things to keep in mind:
What is Batik fabric?
When you hear the phrase "batik fabric," you might immediately think of Indonesia, where the art was born. The term batik is actually a combination of the words amba and titik, which mean "wax" and "fabric." Batik fabric is made using a resist dyeing method in which a layer of wax is applied to specific areas of the fabric. The wax then prevents the fibers from absorbing the dye, creating beautiful patterns and colors. The wax resisting method is also responsible for the crackled cobweb-like lines characteristic of batik fabric.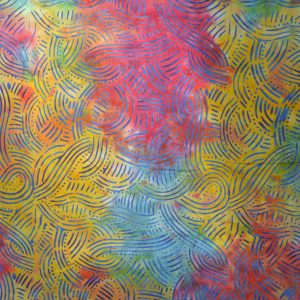 Batik fabric can be made from several different types of fabrics. It's best to choose 100% cotton, which has the highest thread count. Cotton is cool and breathable, making it the perfect fabric for batik. If you're looking for a more traditional fabric, consider mercerized cotton. It's also recommended to go for a dobby cotton. Dobby cotton has a distinctive texture and is popular with batik makers. Finally, cotton is very comfortable and perfect for quilts, Hawaiian shirts, and most any other piece of clothing.
Inland batik is patterned and dyed on the back. The patterns are made of wax and plant dyes. The cloth is then drawn with a design. After that, the wax is removed and the dyes are applied. The dyed portions of the fabric stay the same colour, and the undyed areas retain their original colour. This process is repeated for as many colours as desired. This technique has been practiced since ancient times.
What is Batik made of?
The art of batik production dates back to Indonesia. However, it is now practiced in several areas around the world. It originated on the Indonesian island of Java and was refined and elevated from its ancestors. It has become an integral part of the culture of Indonesia, and was even named to UNESCO's Representative List of Intangible Cultural Heritage of Humanity in 2009.
The process of batik involves the use of wax to create a pattern on a fabric. The wax hardens before the fabric is dyed, and the wax is then removed by boiling. The resultant pattern is a crackled pattern that makes it particularly suitable for dressmaking and home decorating. Batiks are popular for dressmaking and are an excellent choice for quilting projects. Batik prints and patterns give your quilts an exciting and unique look, and they work well as background colours or feature fabrics.
Batik fabrics are made from a variety of fabrics, but the best results come from natural fabrics. They should be primarily made of natural fibers such as cotton and silk. Silk cannot be used as a base fabric because it wicks away moisture and doesn't allow for wax to protect it from dyes. However, if you're planning on making a batik fabric, keep these tips in mind.
The benefits of using Batik fabric
The beauty of Batik is that it has multiple uses, from textiles to home decor. It is a unique design style that is unique to Indonesia. Traditionally, batiks were painted, but nowadays, you can buy multicoloured batiks that are dyed and printed at the same time. In the commercial sector, this fabric is made using a computerized printing machine. The fabric used in this method is usually sold in meters, with no underside pattern.
The fabric used to make batik is usually made from cotton or rayon. It is then waxed or capped in one part of Indonesia and dyed in another. The process of batiking uses the principle that wax resists water. The wax is applied to the fabric, where it makes cracks that allow thin lines of dye to penetrate. The process of waxing batik fabrics is similar to dyeing clothing, except that the wax is removed.
You can iron batik fabric. To iron batiks, you should use the lowest heat setting and place a thin cloth between the iron and the batik. If the fabric is too thick, you can also spray water on it to make it smoother. The odor can also be eliminated by spraying deodorant under the thin cloth. Batik fabrics breathe well and don't hold excessive perspiration. You can take them home with you for a lifetime of enjoyment.
The cons of using Batik fabric
Although batik fabrics have great aesthetic value, they are not without their cons. The primary drawback is their high price. While it is expected to help the local economy, the production method used in batik production is unsustainable and harmful to human health. Foreign paraffin wax, used as a prime resist component, is unsustainable in terms of its supply. Moreover, it is harmful to the environment and human health because of the high levels of heat generated during the application and melting processes. Batik market prices are high and competing with cheap foreign batiks.
Another disadvantage of using Batik fabric is that the process of dyeing can be hazardous to the environment. Chemicals used in batik coloring can damage the ecosystem and cause cancer. The use of manmade synthetic dyes pollutes water sources, disturbs ecosystem balance, and causes other health hazards. Various studies have shown that high levels of dangerous heavy metals are present in the surrounding region of batik production. It is also not advisable for pregnant women to wear batik fabric.
The process of dyeing batik fabrics is relatively simple. Artists draw the negative image on the fabric before dyeing it. The process has been around for ages, and Egyptians and African tribes used cassava starch instead of beeswax to dye their fabrics. Eventually, the process evolved into a more modern form, which we know as batik fabric. A few pros and cons of using batik fabric include:
History of Batik fabric?
The history of Batik fabric can be traced back to the Kartasura Mataram period. During this time, the fabric was sold in two-metre lengths for use as sarongs or kain panjang, which are the traditional garments of Javanese women. Batik can also be made with a pattern based on Japanese cherry blossoms, butterflies, and chrysanthemums. These designs were later changed by the Japanese to represent the three Hindu Gods, which were also the symbols of their empire.
The process of Batik Fabric creation dates back to the fifth century BC. Men mostly work on the block-printed fabric. The process of batik printing is the same for hand-painted batiks, but the printing plate is made from copper, the best material for preserving heat and holding wax. It is also known as lukis. Batik fabric can be made in a variety of colours, including pastels, bold shades, and plain colors.
The process of batik is an ancient art that began in India. It was reduced to a bare minimum during the Egyptian period, but was revived during the 19th century. In the 19th century, a batik course was introduced at the Shanti Niketan in Kolkata, which has a long history of batik production. It is still one of the oldest art forms in the world. If you're wondering where batik originated from, start your search by reading about its history.
How to care for and clean Batik fabric?
To maintain the beauty of your Batik fabric, you must learn how to care for it. When washing Batik fabrics, you should use a mild detergent and wash them on the delicate cycle. It is also important to line-dry the items and avoid using detergents with chlorine or strong fragrances. Batik fabric should be kept out of direct sunlight to preserve its color. It should also not be sprayed with perfumes.
To clean your batik fabric, simply follow the instructions provided in the label. Hand-washing your batik cloth is fine, but avoid wringing it. Wringing could damage the fabric's fibres. Instead, try pressing down on the cloth to extract more water. Similarly, laying the batik flat or hanging it to dry will prevent the fabric from wrinkling. You should also avoid ironing it directly, since it could damage the color.
Besides washing your batik fabric on a delicate cycle, you should also carefully follow the manufacturer's instructions for washing the fabric. For best results, you should wash the fabric in cold water with similar colors. However, you should be careful when washing new batik designs as they contain dye. Also, be sure to pre-wash the fabric to remove excess dye before you use it. By doing so, you can reduce color transfer and shrinkage.
---
FAQ
Main batik fabric colors
pink
white
red
green
purple
yellow
blue
black
grey
Main batik fabric brands
Robert Kaufman
Cotton + Steel
ben textiles inc.
Spoonflower
APC Fabrics
SanVera17
eLuxurySupply
Lunarable
TELIO
Sophia-Art
Ambesonne
Fabric Merchants
Michael Miller