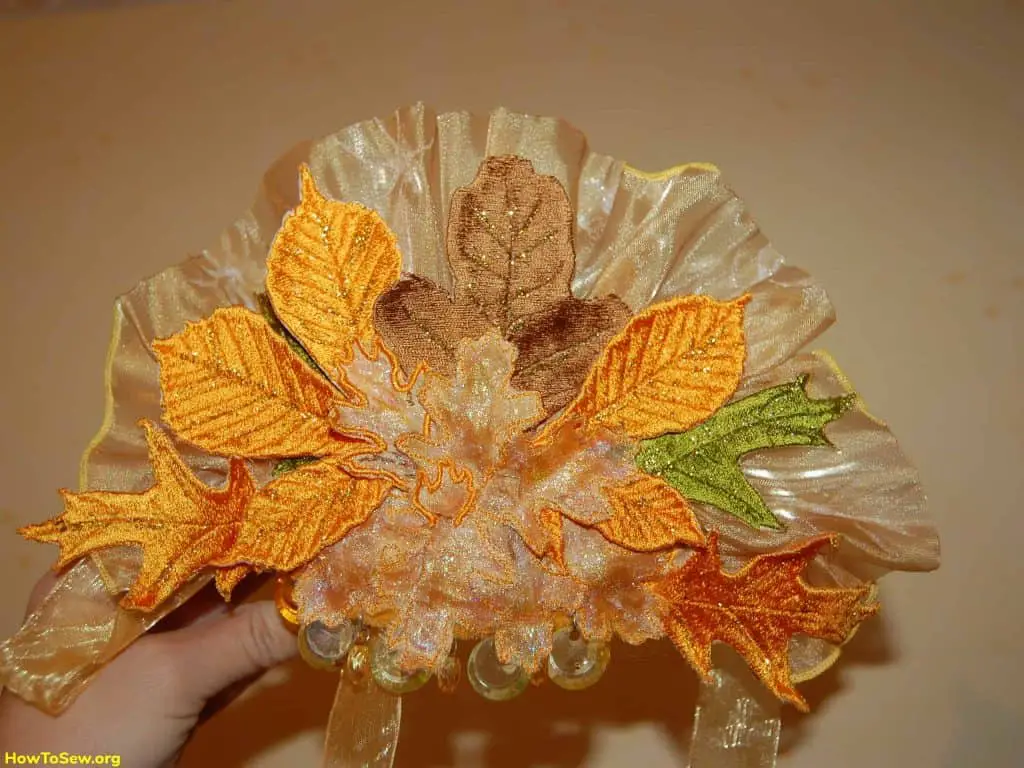 It's time for autumn …

And what autumn can not do without the holiday of autumn in kindergartens and schools. Autumn is generally a very bright season, especially its first half.

Nature paints leaves so beautifully that we have something to learn from it.
The first dress was made for another holiday, and "turned" into a children's fall costume for kindergarten using various accessories.
The crown of autumn, an apron, applique on the chest and a sticker with sparkles (which are washed off) are the whole secret of the new dress.
The original dress was taken this. And it turned out like this: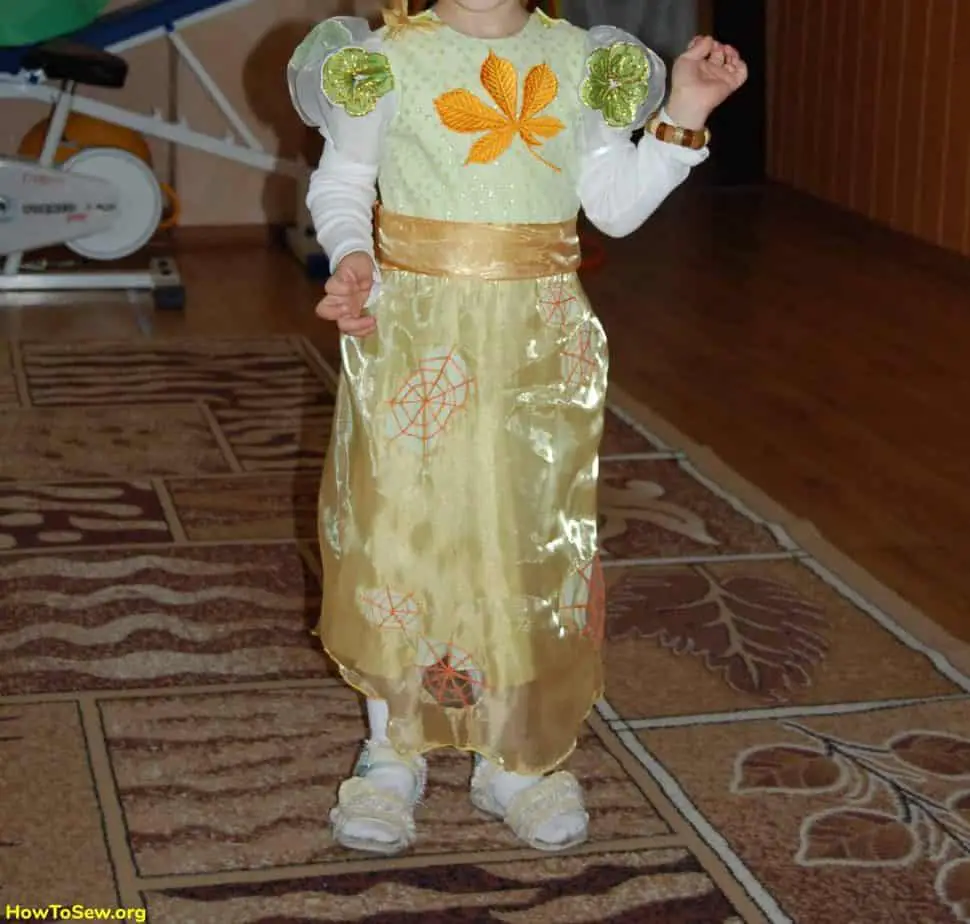 The following year, he made his corrections and the second dress is a specially tailored children's suit for autumn. It is very bright and shimmers with all the warm shades of the coming autumn. A dress of this color is very practical, it can always be used for various carnival images: autumn, mushroom, chanterelle, fire, squirrel, fox, butterfly, etc. It is sewn from a crystal of bright juicy color. The autumn costume in this design looks very beautiful both in life and in photographs.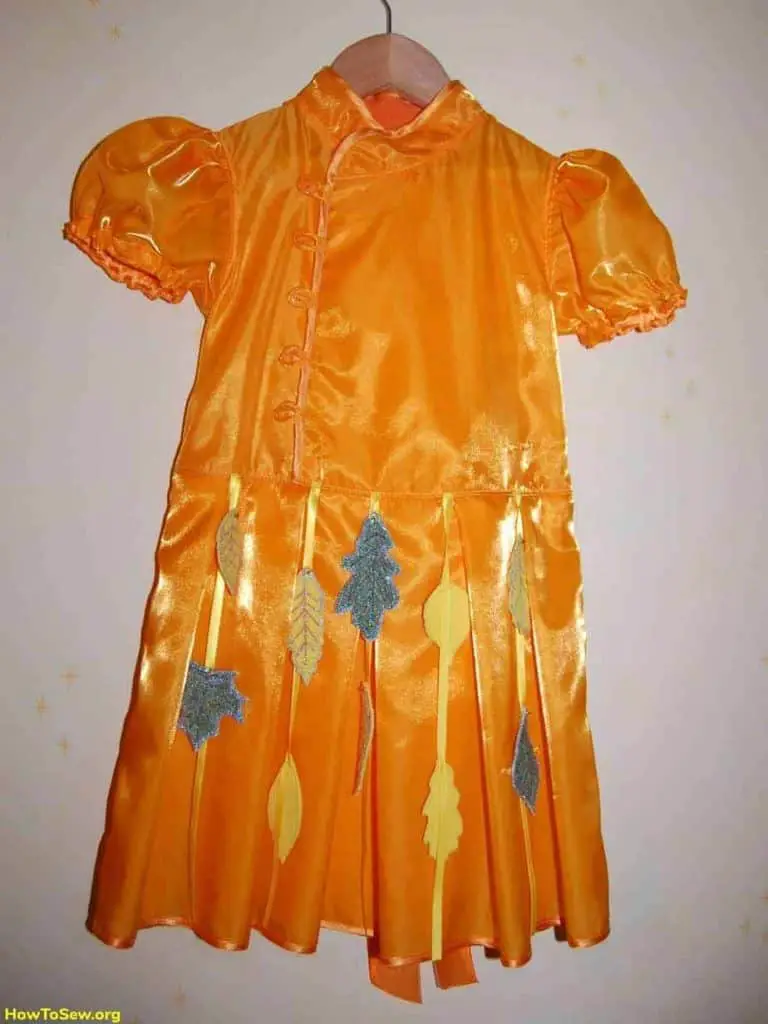 I made the crown for the costume of autumn exclusively on the model of living leaves. I had an embroidery machine and free autumn leaf designs at my disposal. First, I embroidered large leaves on the fabric, fanning them in the center. All this is attached to the cardboard. On the central veins of the leaves, a thin wire was sewn from the wrong side, wrapped in a thread to match the tone of the sheet. This is done so that the leaves do not fall and keep their shape well, and so that it is possible to shape and bend the crown as you want.
Then, separately on the organza fabric, I embroidered many small and large autumn leaves. Some were completely filled with stitches, others were embroidered only along the contour. I sewed these leaves in the center of the crown and formed an autumn bouquet of them. Below on the crown are threaded rings with beads of different sizes and shapes. The crown itself is tied to a wide ribbon. It can be wound to a hoop and then dressing will turn into pleasure itself :)) All this "creativity" is very generously coated with sparkles and gold paint from a helium pen.
Even for this costume of autumn, autumn leaves were made on ribbons, the ribbons themselves were sewn to the dress at the waist in different places. I wanted to buy purchased leaves, but at the right time there were no autumn leaves, but there were only green ones. Such did not fit … I decided to do it myself. I took real leaves collected with my daughter in the park, all were small and of different shapes. She circled the fabric from the wrong side with a pre-glued thick bump, sewing the veins on a typewriter and cut it along the outlined contour. I spread it with sparkles and sewn it on ribbons for one bead at the tip (where the handle is located).
I have long prepared these leaves for storage. The method is very simple, first dry a little in the book, then coat thickly with PVA glue (thick as sour cream) and attach to dry on a rope. After complete drying, the glue becomes transparent, and the sheet becomes gloss. This sheet must be put under the press so that its edges are aligned. Such leaves do not lose color for a long time, yellow and red leaves generally look very fresh and not dull. Of these, you can make a crown with a glue gun by pasting a blank onto a template.
In addition to the costume, an apron was sewn last year (turned into a pelerine this year). A piece of shiny fabric such as organza is cut out in a rectangle, the bottom is not even (in waves), you can process it with an overlock, zig-zag or even burn with a lighter. If you stop at the third method – then you need to do it quickly so that the edge does not melt too much, otherwise tights or claws will cling to your legs. Then we cut out the holes in random order, large and small, you can take two next to each other, then we sew a white net to the holes with transparent threads along the contour, I just burned the edges of the hole with a lighter. Then with bright threads we scribble a cobweb in the picture. After all, autumn, Indian summer, spiders and all that …
We make a belt. From above, we put this whole thing on a tape: pick up a little and squeeze between two tapes, sew along the top and bottom. And then tie it like an apron or pelerine.
About an orange dress made of crystal, I wrote an article separately. Here I detailed, described the features in sewing and seam processing. I recommend reading those who are going to sew such a dress.