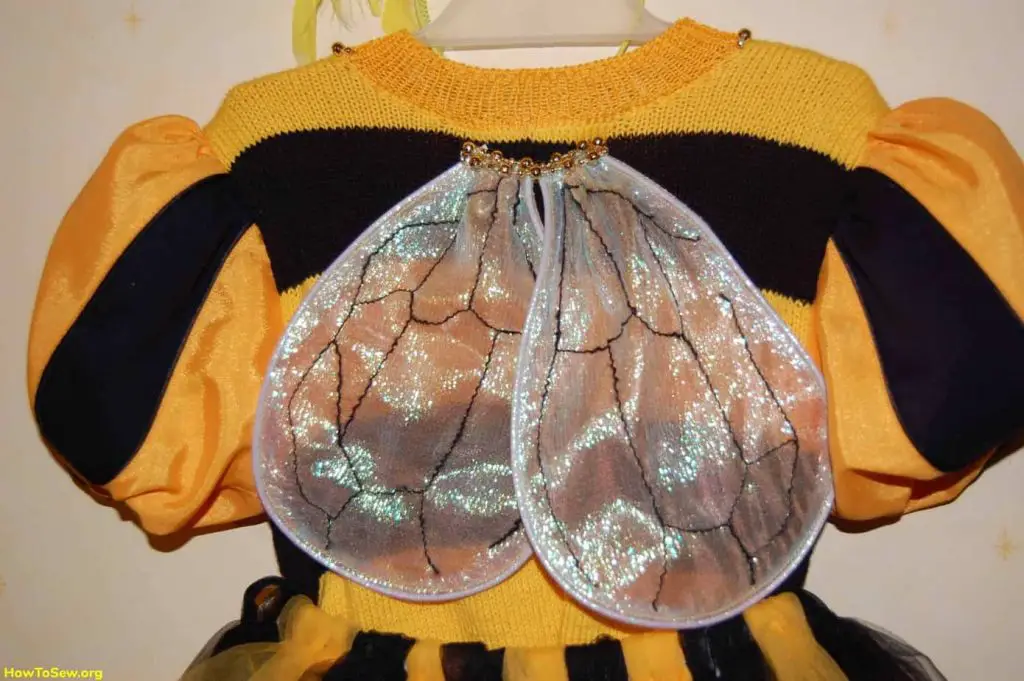 In this article I will tell you in detail how to make wings and talk a little about the kids bee carnival costume.
So let's start – the wings should shine and be streaked. It is most important.
A bee has a very peculiar pattern on its wings not to be confused with other insects.
We begin to make wings, you need to determine the shape. Advice – they should not be on the whole back of the child. It is more comfortable. You can draw a sketch. One of paper, the second of cardboard and the third of tracing paper. In the figure from tracing paper, draw veins that will be on the wings: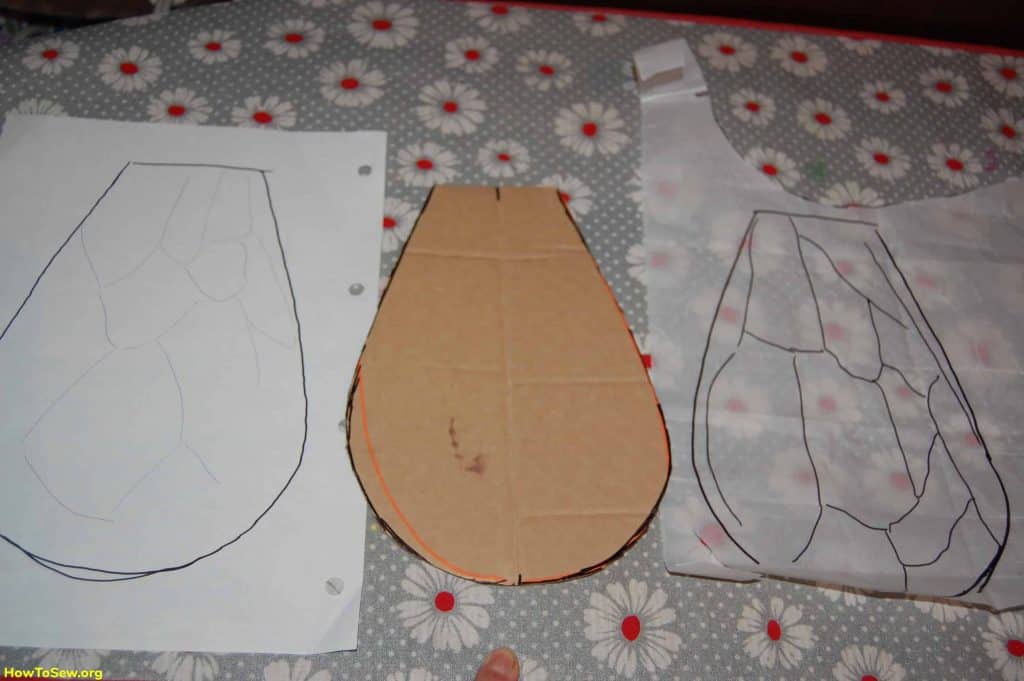 Then lay a cloth on a sheet of paper and sew along the contour. I have two tissues: one is yellow iridescent organza, and the second is shimmering with streaks of tinsel. This is the most shiny fabric I have ever seen in stores. It is very loose and its edge is very difficult to process. The edges of the yellow organza should be lit with a cigarette lighter from shedding. But it will not work with rainbow cut, you need to leave a large allowance at the seams.
In order to beautifully and accurately sweep the edges, we need to turn our wings onto our faces and insert a template from cardboard into the non-sewn hole on top (to make it crawl into it we need to fold it into two and carefully unfold it inside), spread it well and iron it without taking out the cardboard on an organza acceptable temperature.
Our wings have already acquired the desired shape. For little children, you can leave it that way. Stitch to the edge and make streaks. Sew in a blouse or sew on a purchased sweater. For older children, I would recommend inserting wire into the contour of the wings.
I have this one: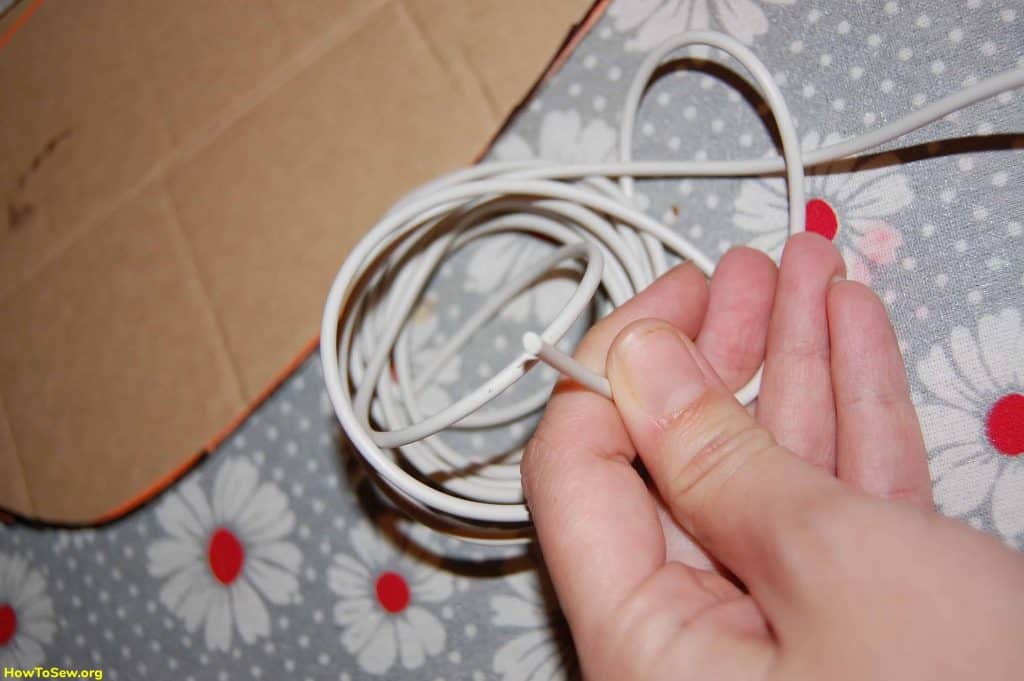 How I made the wings that hold the shape: I inserted the wire around the perimeter and swept it clearly along the contour. Then she took a foot for sewing ordinary zippers and sewn around the perimeter, thus pressing my wire to the edge. Everything is clearly visible in the photo:
Then a tracing paper with a picture is applied and scribbled on it in the tone of organza. This we apply the pattern, which we will then embroider with knitting threads. Tracing paper breaks, the pattern remains. I had threads – black mohair. Fluffy and not very dense. I sewed the needle back, exactly following the pattern.
I pulled the finished wings from above and secured them to a large pin (thick finger) with a glue gun. I glued decorations on top – beads from a Christmas tree.
The wings themselves can now be moved wherever they want, even by
jacket, even a T-shirt. I have this special jacket like this: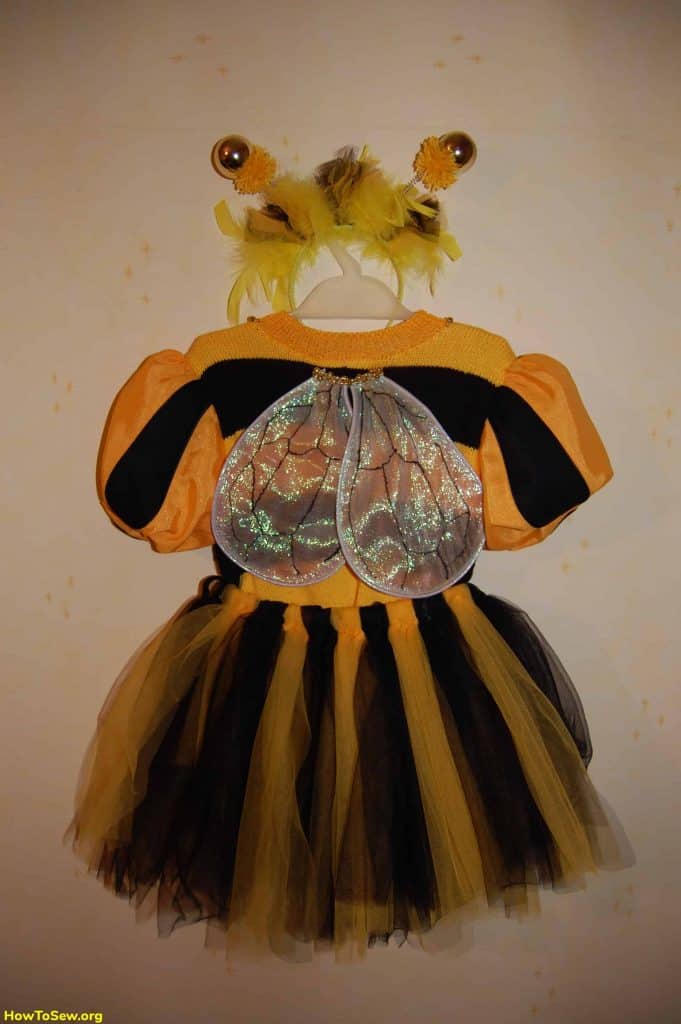 You can also read a workshop on making horns for a carnival bee costume.