How to make horns for a carnival costume Ladybug
They are made quite easily, and look very unusual and elegant. The same horns can be made for different carnival costumes of insects: a bee, a grasshopper, a May beetle, etc.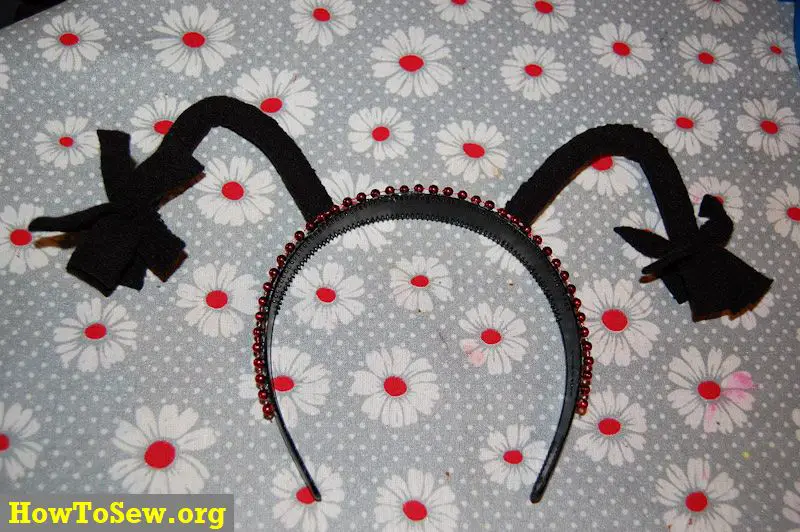 You need a black rim, pieces of black fabric (fleece is good), red tape, beads, wire that bends well.
Take the wire and bend it with pliers as in Pictures 1 and 2: at one end do as in Picture 1 so that our horns are not sharp.
At the other end, do as in photo 2 – bend so that there is room for attaching the horn to the bezel.
In photos 3 and 4 you can see the ladybug horns getting thick. Wrap the wire with a strip of foam. I used sticky-coated foam for this. I cut strips of fabric along the length equal to the horns, and the width equal to the width of the horns to wrap the horns around plus the seam allowance.
This stage is needed only for those who sew from the fabric, which threads crumble – you need one edge along the long bend and smooth on the inside. If you sew from fleece fabric, you can immediately wrap and stitch.
In the photo below you can see how to wrap and wrap the horns with strips of fabric. It's done by hand.
I marked the mounting points of the horns on the hoop and glued the horns to the right places with a glue gun, this can be seen in photos 5 and 6. You can wrap or wrap the hoop with a cloth and then glue the horns. Then everything will hold well.
My daughter and I had a good idea to decorate our ladybug horns with beads and ribbons. We found red ribbons and beads to decorate our Christmas tree. I glued those decorations to the horns with a glue gun.
Our horns for Christmas carnival costume Ladybug are ready. Wear it with pleasure, make your children happy.